Clarksville Beginnings – Part 3: What Kind of Man Was Valentine Sevier?
By Tracy Jepson
| November 17, 2014 |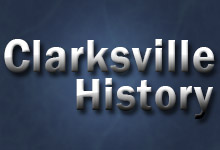 Clarksville, TN – Our lives here in Middle Tennessee are built upon the foundation of those who lived before us. The names of these souls of long ago are sprinkled upon our consciousness as they are now reflected in the names of our counties, cities, and roads: John Montgomery, George Rogers Clark, James Robertson, etc.
They are people who lived the prime of their lives in the late 18th century on the cusp of a new nation, bordering a frontier with a plethora of possibilities. These men are revered and their lives have been boiled down to a thick consistency of stories that all reflect their heroism, bravery, and sometimes larger than life achievements.
There is a definite vibe that they are only to be portrayed as one dimensional hero type characters. Along with that I get the feeling that to declare anything else is pretty much blasphemy.
The lives of these men seem to follow a similar pattern. They were Revolutionary War heroes and before that many of them were one of the famed long hunters, such as Daniel Boone, who would embark upon a year or more's journey into the wilderness of Appalachia and beyond, seeking furs and pelts and living off the land.
Both of these personas were later romanticized for their apparent adventure and nobility. At the end of their lives many of these men and their families were participants in westward expansion as frontiersmen and Indian fighters.
What has become lost is the other side of the story: their weaknesses, their mistakes, and where they failed humanity. So, why dredge that back up, you ask? Of course, most people realize these men had their faults and we are not that naïve.
We should dredge it back up because what has become lost is how their thinking and life philosophy was destructive, disrespectful, and perhaps still perpetuates itself in our own consciousness today. And unless this part of the story is brought back to life again and given equal attention, perhaps it has the ability to continue that perpetuation.
Our culture and history are no different than most, in that for generations the idea of warfare has been celebrated. The tales of Indian fighters and revolutionary war heroes were no doubt shared with great enthusiasm at many a dinner table well into the 19th century. The stories focus on the chivalrous and heroic instead of being infused with the more accurate tones of the suffering created by the attitudes of domination, subjugation, and exploitation.
In the last couple of decades great strides have been made in balancing out the stories that comprise American history. History is written by the "winners" and many times it can take decades or centuries for a more accurate picture to emerge from a situation.
For well over a century Native Americans were mostly portrayed as barbaric savages, and Euro-Americans as persons of upstanding character fulfilling God's destiny. Then a new trend began of depicting the Native Americans more as innocents, and pioneers and settlers as egocentric, blood thirsty, greedy, and exploitative.
What is true? Most likely a balance of the two interpretations would be most accurate. That is what is necessary in the telling of the stories of our pioneer heroes of Tennessee – balance.
Description of Valentine Sevier
So, what am I talking about? Well, as far as Clarksville goes I am talking about our own Valentine Sevier. He was one of them. He fits the profile. He was an elitist of his time, full of ambition and willing to go to great lengths to achieve his goals.
He is the man whose name is emblazoned upon the plaque here in Clarksville at the site of Sevier Station; the man who is buried at Riverview Cemetery and whose life's story and the sad ending filled with horrific violence is told and retold in Montgomery County; a life that began as the son of an immigrant living in Virginia in the 1740's right on the edge of the frontier. And he is also the younger brother of the daring and ambitious John Sevier, who became the first governor of Tennessee.
There is a great book at the Clarksville Montgomery County Library called "The Sevier Family". This book contains an inspiring description of Valentine Sevier. He is described as "a large man, larger then Gen. John Sevier, and was a gallant and bold soldier. He had been a hunter in his youth, with figure as erect as an Indian's, spare of flesh, with a clear skin and bright blue eyes.
His father was a Virginian of French extraction, from whom he inherited something of the Cavalier spirit so prominent in the character of his brother, Gen. John Sevier…with an erect, commanding, soldierly presence, bright blue eyes and quick ears…was remarkably fond of his horse, his wife, his gun, his children and his hounds…he was at once ardent, brave, generous, and affectionate…a man of strong intellect, daring courage, and inconquerable perseverance and great activity in the prosecution of all his undertakings…and he had a very large nose."
Doesn't he sound amazing? And while it seems he had many admirable qualities, it should be noted that many men of his time were later described with the same romanticized language. Who were they truly? Are the values that their lives reflect something to celebrate or emulate?
Attitudes of the Overmountain Men
Yet, who they were and what they were doing is understandable if one considers the whole picture. To consider the life of Valentine Sevier one must put things in context. His life began as a little boy growing up in colonial Virginia (born 1747); a young boy who must have been frightened often by the continuous conflict with the Cherokee.
It is known that his father, Valentine "the immigrant" Sevier, had to move his family more than once in an attempt to ensure their safety. It seems these frontier families were reduced to a continuous state of feeling like nervous prey.
It is doubtful though that young Valentine understood the context and the overall picture that created this awful situation. Did he consider the Cherokee's point of view as their lands were continually encroached upon and useless treaties continually broken? Did he understand the frustration and then later rage the situation produced for this group of people?
It is doubtful he seriously considered the dignity or needs of the Native Americans or considered their rights as human beings. This seems to be another example in history of the artificial hells that people unwittingly create due to greed, ignorance, or fear…you know, the usual suspects.
And it was not just Valentine, but the whole corrupt system on the frontier in the late 18th Century. Valentine and his family were among many who were originally from Virginia or North Carolina and were pushing west in search of land and fortune.
Many in this group of Euro-American settlers had spent the 1770's and the 1780's in the Watauga Settlement, also known as the Washington District. This area is now in eastern Tennessee in the vicinity of Elizabethton and Jonesborough, which is Tennessee's oldest town (est. 1789).
These settlers disregarded the treaties made between the British and the Cherokee in order to settle upon the land that they wanted. In fact, one could speculate the Revolutionary War for them was more about getting that land from the Cherokee than it was personal liberties. They were known for their brazen and independent leanings and also their abilities in the wilderness and with a musket – "The Overmountain Men."
In 1774, Lord Dunmore of Virginia complained about them saying, "In the back part of this colony, bordering the Cherokee Country, there are a set of people who, finding they could not obtain titles to the land they fancied, have settled upon it and contented themselves to becoming tributary to the Indians, and have appointed magistrates and formed laws…Forming governments independent of his majesty's authority, sets a dangerous example to the people of America."
Independent. Courageous. Resourceful. These are all admirable qualities for sure.
At this point in his life (1770's) Valentine was in his 20's, had married Naomi Douglas, and started a family. By 1775 Naomi had given birth to four children and was also expecting twins. Valentine and Naomi Sevier would eventually go on to have 14 children together. It appears he originally supported his family by becoming a long hunter.
Later, after the Seviers had become part of the illegal Watauga Settlement he became a sheriff and justice of the court as well. As Valentine and Naomi were raising their young family on the western slopes of the Appalachians he and his brother, John Sevier, had gained prominence in their new community. He was also a Captain of the local militia and a spy which would lead him to become involved in many battles along the frontier with both the British and the Native Americans.
Years later Valentine's nephew, James Sevier, reported the following about his uncle: "Although always in the militia (instead of the Continental Line or regular army), he was one of those spirits that never was missing at the post of danger until the close of the Revolutionary War.…There was no campaign from Lewis in 1774 until the close of the war in '82 that he was not in against the Indians.…" He was part of the Battle of Point Pleasant against the Cherokee (1774), the Battle of King's Mountain (1780), and then he and his brother, John Sevier, participated in the Overhill Cherokee expeditions (1779-1782).
These significant events in both Valentine and John's lives took place while they were still relatively young men in their late 20's and early 30's.
The Seviers and the Cherokee
During the Revolutionary War the Cherokee aligned with the British against the colonists. This fact was beneficial in some ways for the opportunistic colonists who had illegally settled upon Cherokee land. The Overhill Cherokee Expeditions were dual-purpose ventures.
One purpose of these expeditions are reflected in John Sevier's words below, relayed to us by Anthony Forman in 1789: "I heard John Sevier, at a public gathering of people on French Broad, stand up and inform the people .…you all will know that the Cherokees have refused selling their lands to us from time to time, and we have no other way now but to take it by the sword, by going into their nation, killing and taking their women and children, destroying their provisions, and by these means we will compel them to give up their lands to us.…."
This attitude and intent does not sound heroic to me.
The Cherokee had become perceived as a plague and a threat upon the settlements. In 1777, North Carolina enacted a new law. They had enacted this same law with similar verbiage a few years prior to rid the frontier settlements of "vermin". The law had then been rewritten to deal with the problem that was the existence of the Cherokee.
The law was called, "An Act for the Encouragement of the Militia and Volunteers employed in prosecuting the present Indian War." (Chapter VII, North Carolina. General Assembly April 07, 1777 – May 09, 1777). Any solider in the militia would be paid 10 pounds per Cherokee scalp and 15 pounds per Cherokee prisoner (to be sold into slavery no doubt). But only after June first, it states. In effect, an open season of hunting had been declared upon Cherokees. If a person was not presently in the militia the payment was increased, " And be it further enacted by the authority aforesaid, That a premium or reward of forty pounds for each scalp of an Indian Man, and a premium, or reward of Fifty Pounds, for producing an Indian Man Prisoner, be paid to any person in this State, not in the pay thereof who shall voluntarily undertake to make war upon the said Indians after the time aforesaid; …the Captors making oath as aforesaid, that such scalp or prisoner was taken by him after the said first day of June, and that the Indian so killed or taken was of the Nation of Indians commonly known by the name of the Cherokees; and that the scalp produced was actually taken from an Indian killed by the person claiming the same.
If one knows their history, I suppose this law is not too shocking. It seems all groups during this period: the Spanish, the French, the Native Americans, the British, the Colonists, etc. could be found to be participating in scalping and paying for scalps at some point.
Valentine's Pattern of Ambition
After the success of the Overhill Cherokee Expeditions, Valentine went on to become involved in the failed State of Franklin (1784-1788) along with the failed attempt to settle the Big Bend area along the lower Tennessee River near Muscle Shoals (1785 -1786). His next ambitious endeavor (and last) then became the creation of Sevier Station near the newly emerging town of Clarksville.
There is a line of thought that says that a person's priorities can be shown by the choices they make, not by what they say or even by what they intend to do. If this is true, Valentine shows a pattern of a certain type of choices. His priorities seem to be ambition and adventure and not necessarily the security or welfare of his family or concern with the rights or welfare of other people groups outside his own, such as the Native Americans.
These goals and attitudes continued not just for Valentine, but his peers in the late 18th century. Many men who were part of the Watauga settlement, the North Carolina militia, or the failed State of Franklin had now embarked upon a new venture – the settling of and profiting from the Cumberland region. They realized there were fresh opportunities for wealth creation awaiting them.
Reading the correspondence between the prominent men of the time, it becomes clear that their goals were heavy with ambition. There was an infestation of land speculation going on; with people profiting greatly from buying and selling land grants originally awarded to Revolutionary War soldiers. The elite, such as Governor Blount, James Robertson, and John Sevier were amassing tens of thousands of acres. They made sure to appoint their buddies to the land registrar offices and surveyor positions. The Cherokee, the Creeks, the Chickasaw were just in the way.
They were the elite of their time and they had big plans. Due to Valentine's wealth and previous accomplishments and positions, he fits the profile of the elite pioneer of his time. His wealth is particularly shown by the amount of slaves that he owned (at least 7). This type of pioneer was described in the book, Men of the Waters: Among these pioneer land-seekers there was an occasional individual who had previously achieved a degree of material success on the former frontier… He was driven not by the necessity of seeking new opportunity but by an ambition to enlarge the scope of his enterprises.
When he crossed into the new country, he was able to carry with him several horse-loads of equipment, a small herd of livestock and a number of slaves to expedite the labor of developing his new property….Such more prosperous figures in the western movement were outnumbered a thousand to one by their poorer neighbors.…they usually became militia commanders, county lieutenants, convention delegates and the natural economic and political leaders of the new communities."
I believe a significant distinction could and should be made between the average settlers or pioneers and the more prominent elitists who were seeking great wealth through the accumulation of large amounts of land, thousands of acres of land! The average pioneer was simply looking to meet the basic needs of his family and to give them the hope of a future where these basic needs might be met. Security.
The more prominent pioneers were looking to attain much more than their needs, but also power and great wealth. When would they ever have enough? This is the very definition of greed. And they had found ways to rationalize their ambitions and justify the subsequent violence. The stories that follow the development of such attitudes are never pretty.
The Native Americans did not seem to make this distinction and were in opposition to any further expansion. The point of view of the Cherokee in particular is revealed in their correspondence with the Spanish Governor of Louisiana, Governor Carondelet: "The Americans, through fraudulent methods customary among them, have usurped the lands of the Indians. The Cherokee nation unanimously demands that the ancient boundaries laid down in the treaty with the British be preserved, and that you insist that the Cumberland settlement be removed. Outside of this, nothing will satisfy the Cherokees and Creeks. Cumberland was settled toward the end of the last war by a certain Robertson and some companions, who by hiding their voyage and their designs, seized control of these lands."
So, the stage was set for what happened next. After a lifetime of war and ambition Valentine moved to the area of Clarksville, TN…right up here on red paint bluff overlooking the Cumberland and the Red River. This was a prime spot for trade and future development with its two operating ferries, blacksmith shop, and the Sevier family name and prestige.
Unfortunately, like most of the other early settlers of middle Tennessee, he had settled upon the ancient hunting grounds of the Native Americans. Due to this fact, what followed next was an onslaught of raids and murder perpetrated upon the settlers along the Cumberland. Two of such incidents resulted in the horrific deaths of 6 of Valentine's children and two of his grandchildren. (Read about it in Part 2 of this series if you have not already!)
Yet, after what you now know, do you consider Valentine Sevier a victim of these tragedies? Or is he partly responsible for creating the situation? Is he still a hero of the revolution? Or maybe it falls more under the category of "you reap what you sow"? Is that too harsh? Valentine and his peers have been hailed as heroes for centuries…what then exactly is the definition of a hero?
It seems appropriate to celebrate the brave and hardy qualities of the pioneers. The courage and hard work it took to accomplish what they did is admirable. Yet, on the other hand, what is admirable about the entrepreneurial spirit and the building of wealth at the expense of others? In recent times, it is increasingly more common for a distinction to made between the various means a person employs to build wealth or work towards progress. Success through the exploitation of other human beings or the environment has a tremendously different flavor than success that considers the needs and dignity of others and the future consequences of one's actions.
If he could speak to us now, what would Valentine tell us about his life, the means he employed, and whether he regretted them? I believe he would want us to know that in his life he knew much sorrow…and that it was preventable. He could have made different choices and not lost 6 of his children and 2 of his grandchildren to an early grave. Not only that, but he lost his wealth as well due to the pillaging and burning of his station. At his death, records show he had a mere $6.32. Thus it seems he lost the very thing he spent his life pursuing.
If Valentine Sevier and men like him are in actuality not heroes, then who is? Maybe there are various definitions of a hero. My definition is someone who shows exceptional strength and courage despite the acceptable evil trends of their time. I value a more humanitarian approach versus celebrating individuals who win or survive at all costs. In this situation, a hero would not have been profiting from the suffering and losses of others. They would have placed dignity and the rights of human beings above ambition and adventure and of course, the safety and security of their family would have been of utmost importance as well.
Doing such things would have required strength of character that was remarkable, admirable, and that stood out in stark contrast to the behavior of their peers. That's a true hero… they stand out! They reach for that place which is the expression of their best self and they inspire others to do so as well. They raise the bar!
Maybe we should redefine the original Euro-Americans that settled middle Tennessee. Maybe we should no longer allow them to be either labeled as hero or victim. On second thought, maybe we should shy away from labels at all. Just like people today, many times these men and their families were too complex and their stories and motivations too varied to make final judgments.
One thing is for sure, the stories of Valentine's life and his contemporaries are something we can glean from. Through their stories and others throughout history we can contemplate the conditions that create conflict and tragedies. What are those conditions? And then this leads us to the question, what conditions cultivate peace?
We can decrease the likelihood of such things if we consider stories from our history which reveal to us what creates them – domination and disrespect versus equality, taking and exploiting versus respectfully cooperating and sharing, assumptions and rash judgment versus patience and understanding, respect for all life versus violence stemming from egocentric attitudes.
We see what forms these disrespectful attitudes were taking during the late 18th century. Are these life philosophies still being perpetuated today? What form are they taking? Can we recognize them in how we live our lives, do business, interact in our communities and families, and of course, how our nation interacts on the international stage?
In the end, maybe our ancestors from the 18th century gave us more than freedom from European powers. Maybe even when they failed humanity, they have given us lessons. Let's not waste them.
Coming Soon:
Part 4: Is Sevier Station Really Sevier Station?
The artwork by David Wright used by permission. To see more of Wrights work, visit his website at www.www.davidwrightart.com
For more on the series, see: Clarksville Beginnings – Part 2: Revisiting the Massacre at Sevier Station; In Their Own Words