Clarksville, TN – The weekly Clarksville Parks and Recreation Department Recreation Report provides Clarksvillians with a glimpse at the activities and events that are available from the Parks and Recreation Department for them to enjoy together as a family.
This weeks highlights include: Riverfest, Riverfest Tour d'Art Receptions & Exhibits, Riverfest 52-Hour Film Festival and Recycled Fashion Show.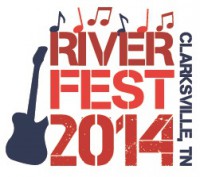 Clarksville, TN – Join the City of Clarksville, Miller Lite and Agero along the banks of the Cumberland River at McGregor Park as we celebrate Clarksville's river heritage at the 27th annual Riverfest Celebration, September 5th and 6th, 2014.
This FREE, two day music and arts festival features three stages of a variety of local, regional and nationally-known entertainers, delicious food, and fun for the entire family.

Clarksville, TN – The DreamChasers program from Clarksville Parks and Recreation is back for another year of mentoring and fun for middle school and high school-aged members of the community.
The program has expanded from three locations to five locations!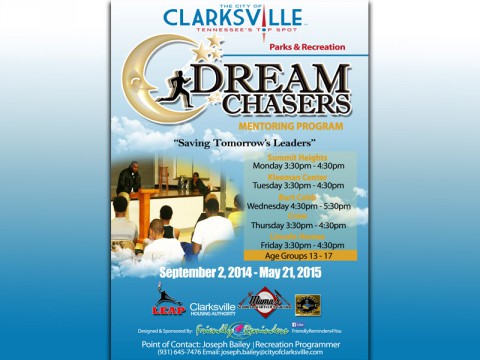 [Read more]

Clarksville, TN – "Twins" is the theme in the Customs House Museum's Crouch Gallery this September. Specifically, those created by Ohio artist Leslie Shiels.
Twins can either be monozygotic, "identical", meaning that they develop from one zygote that splits and forms two embryos, or dizygotic, "fraternal", because they develop from two separate eggs. Shiels' animals appear more as portraits within patterns of positive and negative.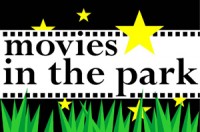 Clarksville, TN – Movies in the Park, the City's free, outdoor movie series, continues Saturday, September 13th, at Liberty Park, located at 1190 Cumberland Drive. 'Planes,' rated PG, and brought to you by The Leaf-Chronicle will be shown at approximately 7:15pm (dependent on sunset).
Activities begin at 6:15pm and include Tumbling demonstrations with the Clarksville Area YMCA and a paper airplane contest with The Leaf-Chronicle and Clarksville Parks and Recreation.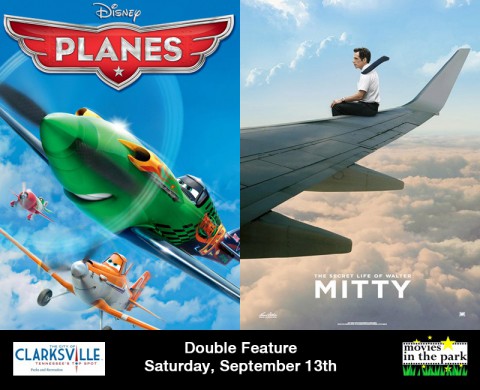 [Read more]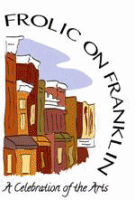 Clarksville, TN – Downtown Clarksville's 9th Annual "Frolic on Franklin: A Celebration of the Arts" will take place Saturday, September 13th from 8:30am-3:30pm.
The free event will showcase the works of more than 30 artists, staged entertainment, art demonstrations, and a doggie fashion show – all along the 100 block of historic Franklin Street.
A variety of original fine art, as well as handmade crafts, will be on display including paintings and photography, jewelry, clay garden items, wood work, purses and fabric accessories, pottery, candles, jewelry, woven and knitted items, and seasonal gifts. Items will be for sale with prices ranging from $2.00 – $500.00.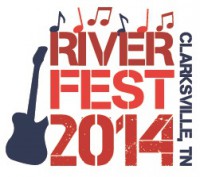 Clarksville, TN – The 2014 Riverrfest festival will feature the rising Canadian country singer Alee in her first performance in the United States, opening for festival headliner Tracy Lawrence on Saturday, September 6th 2014.
Within the first few tender notes of an Alee concert, it is clear that this rising star is a natural talent. Her powerful voice, undeniable charisma, and pin-drop stage presence combine to create an unforgettable live experience.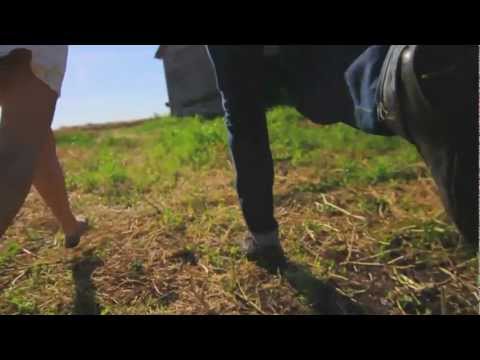 [Read more]

Clarksville, TN – Austin Peay State University art professors are often commended for inspiring students in their classrooms, but that type of praise can occasionally overshadow their skills as gifted, professional artists.
On August 25th, a new exhibit, "The Faculty Biennial," in APSU's Trahern Gallery will remind the community that high-caliber artists continue to work at the University.
[Read more]

Clarksville, TN – A new session of archery will begin September 9th at the Burt Cobb Community Center. Pre-registration is underway online at recpro.cityofclarksville.com.
The 4-week class will be held on Tuesdays from 4:00pm to 5:00pm. Cost is $10.00 for the entire 4-week session. [Read more]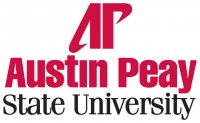 Clarksville, TN – While visiting Austin, Texas, in 2013, Karen Parr-Moody came across a painting by the renowned folk artist Jimmy Lee Sudduth. The dusty image was of a girl in a swimsuit, and it evoked strong childhood memories for Parr-Moody.
"I really identified with going to my grandfather's fishing camp every weekend on the Tennessee River," she said. "It's rustic and beautiful down there. The 'Bikini Girl' just reminded me of growing up and being a little girl."