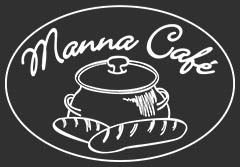 Clarksville, TN – On Saturday, April 28th, 2018 the Manna Café Ministries will conduct a Mobile Pantry food giveaway in partnership with Radical Mission. The Mobile Pantry will be at First Church of the Nazarene at 150 Richview Road, Clarksville.
This event will begin at 10:00am. Anyone in the community needing assistance with groceries is welcome. One food box per household. A valid ID must be presented.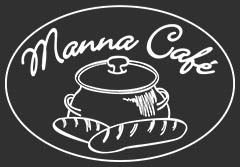 Clarksville, TN – Manna Café Ministries is holding it's 5th annual Grits & Gravy, a casual breakfast-for-dinner event to celebrate its 8th anniversary in Clarksville.
Taking place on Friday, April 27th, 2018 from 7:00pm–9:00pm at the Belle Hollow (2231 Madison Street), Grits & Gravy will include a buffet-style meal; a silent auction; guest speaker Michael Bayne of Greeneville, South Carolina; acoustic entertainment by Lydia Walker; and a big announcement from Manna Café.
[Read more]

Clarksville, TN – When Charles Crow started filming everyday life in downtown Clarksville, there was no such thing as YouTube or iPhones or even the Internet.
The year was 1937, and Crow, a young editor with The Leaf-Chronicle, had just purchased a 16-millimeter Keystone Camera—one of the first affordable film cameras sold in the U.S. It only captured images in black and white and without sound.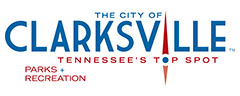 Clarksville, TN – Fort Defiance Civil War Park and Interpretive Center hosted an event this weekend that focused on Native American artifacts, bringing in experts on the subject, and inviting locals to come in with their own items, and questions on the subject.
William Parker is the Historical Interpreter at Fort Defiance. "We are known as a Civil War site, but we tend to forget the war only lasted four years," Parker said. "So we're tapping into the history of this site way before the war, when this hill was inhabited by Native Americans for thousands of years.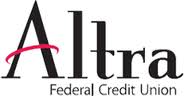 Clarksville, TN – Altra Federal Credit Union will host a free Teens & Money Seminar for students ages 13-17 on Saturday, April 21st from 10:00am-12:00pm at their branch located at 1600 Madison Street, Clarksville, TN.
"This is a great session for teens to attend to learn valuable financial skills and hands on concepts to help shape their future," said Danielle Anderson, Youth Program Supervisor for Altra Federal Credit Union.

Clarksville, TN – On Monday, April 16th, Brad Averitt, Austin Peay State University director of development, will join about 30,000 other runners for one of the nation's most hallowed races—the Boston Marathon.
He's likely to stand out, wearing a red shirt with the APSU logo on the chest, but as he weaves past slower runners, they might wonder about the words on the back — #GovsGive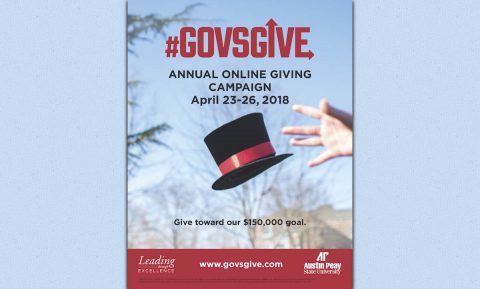 [Read more]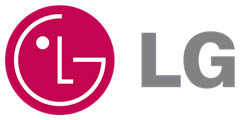 Clarksville, TN – LG Electronics will host its first informational event for LG's brand new manufacturing facility on Wednesday, April 18th at 7:30am to 8:30am and 5:30pm to 6:30pm. The event will take place at The Wilma Rudolph Event Center, 1190 Cumberland Drive in Clarksville.
The event will provide information for all employee positions including line assemblers, press operators, paint line operators, maintenance, injection mold operators, leads, and other professional opportunities. LG will also be giving away a washer at each event, and you must be present to win.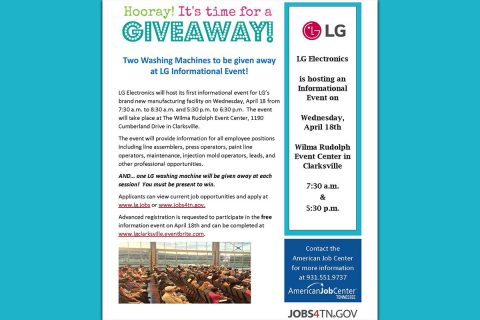 [Read more]

Clarksville, TN – The Vietnam War—America's first "rock and roll war," as it came to be known—had a distinct soundtrack that continues to help define it.
That's why Ken Burns' 2017 documentary, "The Vietnam War," featured music by Bob Dylan and Jimi Hendrix, and why The Rolling Stones' hit, "Paint It Black," shows up in Stanley Kubrick's film "Full Metal Jacket." Even Forest Gump marched through rain and muck to the sounds of Buffalo Springfield.

Clarksville, TN – Small businesses are invited to learn how to maximize their web presence and leverage video storytelling during the free Expand Your Brand Workshop, 1:00pm-3:00pm, Friday, June 8th, in the Austin Peay State University Kimbrough Building.
Workshop topics include Make Your Website Work for You and Sharing Your Story Through Video.

Clarksville, TN – In 2014, Austin Peay State University established the John W. Moseley Media Room in the Dunn Center, but nearly three years later, a related scholarship honoring the late professor had not been endowed.
"I found out we were short about $500.00," Dr. Mike Gotcher, former chair of the Austin Peay State University Department of Communication, said. "I made a donation, and I contacted Bikers Who Care, who also helped out, and we got it endowed."