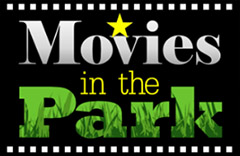 Clarksville, TN – Clarksville Parks and Recreation's Movies in the Park, the City's free, outdoor movie series — continues on Saturday, July 8th, 2017 with the showing of "The Lego Batman Movie" at McGregor Park's North Extension, 640 North Riverside Drive (behind O'Charleys).
Pre-show activities, coordinated by the Clarksville Parks and Recreation Department, will begin at 6:00pm.
Visitor Spending Expected to Total $2.5 Million

Clarksville, TN – Clarksville-Montgomery County is poised to welcome nearly 3,000 guests next week for two divisions of the Amateur Athletic Union's Boy's 10-and-Under National Basketball Championships.
Since 1999, the city has hosted dozens of regional and national AAU basketball events. This year, 53 teams from 16 states including Utah, New York, Texas, New Jersey, Michigan, Maryland, Louisiana, Indiana and most states bordering Tennessee, will make their way to Clarksville for championship play.

Montgomery County, TN – A former principal with Metropolitan Nashville Public Schools and a current assistant principal in Clarksville Montgomery County School System (CMCSS) have been chosen to serve in the principalship at two elementary schools.

Clarksville, TN – The associate director of Austin Peay State University's Office of Financial Aid, Johnathan Button, has spent the better part of a decade finding ways for APSU students to finance their education.
Himself a former student worker in the department, Button found his calling at a time when Austin Peay and its rapidly-growing student population needed him the most.
Clarksville Mayor Kim McMillan, United Way, Happy Kids open Outdoor Resource
Clarksville, TN – Clarksville Mayor Kim McMillan, United Way Executive Ginna Holleman and a playful group of Head Start students opened the Born Learning Trail at Liberty Park on Wednesday.
The project is a partnership between the City of Clarksville and the United Way of the Greater Clarksville Region.

Clarksville, TN – At the weekly meeting of the Kiwanis Club of Clarksville on Tuesday, June 20th, 2017. two check presentations were held.
Congratulations to Ashley Montgomery, Rossview High School student, for being awarded the 2017 Kiwanis Club of Clarksville Scholarship.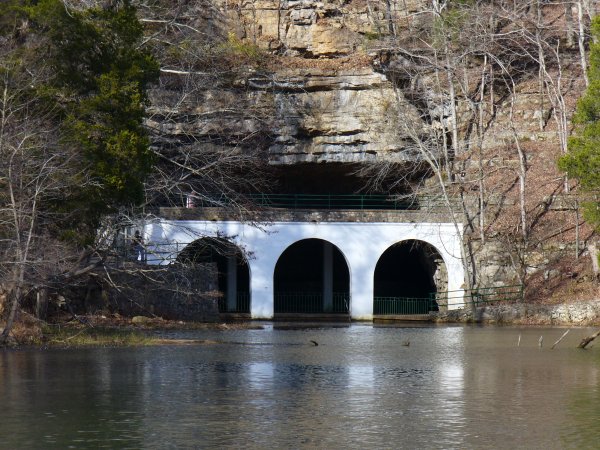 Clarksville, TN – Tennessee State Parks are offering volunteer events across the state to help Tennessee Promise scholars log community service hours on Saturday, June 24th, 2017.
Get some of your Tennessee Promise hours knocked out by volunteering at Dunbar Cave State Park. They could use your help to repaint the fence around the parking lot. They will provide the paint and the brushes, you provide the labor! It is recommended that you wear old clothes and shoes as painting can be messy.
Natural recreation area envisioned in heart of the Clarksville
Clarksville, TN – Clarksville Mayor Kim McMillan's 2018 budget, approved Monday by the Clarksville City Council, includes $450,000 to acquire a unique tract of land in the heart of Clarksville to be preserved as an Urban Wilderness.
The Clarksville Urban Wilderness would be on rugged land that lies between Madison Street and the Red River off of Tanglewood Drive. It includes dense vegetation, steep ravines, primitive trails, and a stream with a waterfall.
APSU Sports Information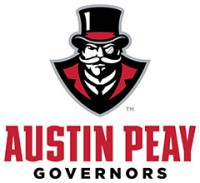 Clarksville, TN – Austin Peay State University Athletics department's Echo Power Engineering Governors Golf Classic fundraiser, presented by Hand Family Companies and the APSU Governors Club, is set for Friday, June 23rd, 2017 at the Clarksville Country Club and Swan Lake Golf Course.
The annual event serves a fundraiser to support student-athletes through scholarships, facility improvements and academic support. Teams can register for the four-player, best-ball scramble for $400.00, with hole sponsorships (which include both course) available for $500.00.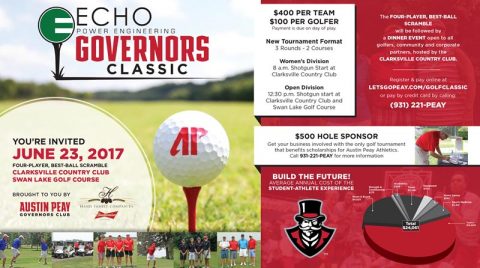 [Read more]

Clarksville, TN – The Austin Peay State University Board of Trustees' executive committee will hold an electronic meeting at 12:30pm on June 21st, 2017.