Heritage Bank Announces Montgomery County Scholarship Honoree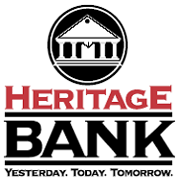 Clarksville, TN – Heritage Bank is pleased to announce Vickie T. Wallace as the 2013 Heritage Bank Scholarship Fund Montgomery County Honoree.
Nineteen seniors from the Montgomery County area will receive the Heritage Bank High School Scholarship in honor of Mrs. Wallace and the commitment she has made to the Montgomery County community.
Over the last ten years, Heritage Bank has committed over $194,000 dollars in scholarship funds to 388 senior high school students planning to attend a higher education institution.
This unprecedented effort is one of the largest of its kind, by touching more than twenty-nine schools across Western Kentucky, Middle and West Tennessee. Every senior student enrolled in a high school in each of the bank's market communities has the opportunity to apply for one of the scholarship awards.
"We are very excited to play a vital role in the success of students in the neighborhoods we serve," commented John Peck, President and CEO of Heritage Bank. Peck continued, "We feel strongly that every student should be able to pursue his or her dreams of a college degree and it is extremely rewarding to give scholarships to each high school in our market areas."
Vicki Wallace was honored as the National Distinguished Principal in 2000 while at Byrns Darden Elementary School from 1991-2001. Mrs. Wallace spent 2001-2007 as the Director of Elementary Education. She has worked a combined total of thirty-six years in the Clarksville Montgomery school system and community. Vicki is married to Lew Wallace and together they have a son, Matt Baker, and a daughter Meredith Baggett.
Heritage Bank conducts neighborhood banking operations in the Kentucky cities of Hopkinsville, Elkton, Cadiz, Murray, Benton, Calvert City, Fulton, and the Tennessee cities of Pleasant View, Ashland City, Kingston Springs, Erin, and Clarksville Heritage Bank records assets of more than 960 million.