Clarksville's Premier Medical Welcomes Dr. Erin Chambers to Doctors' Group Practice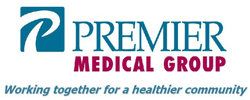 Clarksville, TN – Premier Medical Group is pleased to announce the addition of Dr. Erin Chambers to their family practice department.
Dr. Chambers studied at Austin Peay State University and earned her medical degree from the University of Tennessee College of Medicine in Memphis, Tennessee. She completed her family medicine residency at University of Tennessee/Jackson-Madison County General Hospital.
Dr. Chambers has practiced medicine for almost ten years in the Erin and Clarksville area.
When asked about the most rewarding aspect of her practice, Dr. Chambers explains, "Building relationships with my patients. I often see entire families and can treat them with an overall perspective on their family history and health issues. "
How did Premier Medical Group attract Dr. Chambers to Clarksville? "I have lived in this area for most of my life. We have a farm in southern Montgomery County and two beautiful daughters.
Working with the physicians and staff at Premier Medical Group offers me the support and flexibility to best serve my patients and provide more time with my family," explains Dr. Chambers. "Clarksville and Montgomery County is a great place to live and we call it home.
I look forward to building new relationships with families," adds Chambers. Dr. Chambers is focused on providing health care and management for families. She is accepting new patients at the Premier Medical St. Bethlehem Clinic located at 2147 Wilma Rudolph Boulevard.
To schedule an appointment, call 931.245.7000 or visit www.premiermed.com