Clarksville Beginnings – Part 4: Is Sevier Station Really Sevier Station?
By Tracy Jepson
| November 24, 2014 |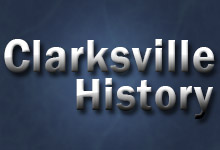 Clarksville, TN – If you look hard enough, it is not difficult to find a rather cynical analysis of recorded history. For example, "The past actually happened. History is what someone took the time to write down," says writer and comedian, Whitney A. Brown.
Or there is American writer and Civil War veteran, Ambrose Bierce, who chimed in with, "God alone knows the future, but only a historian can alter the past."
Yet, despite these opinions and the imperfections they reveal concerning the whole endeavor of unearthing information about the past, it is a still considered a noble one.
Historical research and interpretation remain something that is greatly beneficial to individuals, families, communities, and the world at large. Why? It is all about self-understanding. It is about trying to understand why we are the way we are by researching what occurred before our existence. What is our foundation? Why do we think the way we think? Why do we live the way we live?
It is the job of the historian to take the pieces of information that can be obtained and try to decipher their meaning and relevance. There are the artifacts, structures, journal entries, photographs, and correspondence to pick through. These are poor substitutes for actually being in a place and time, but it is what we have to work with.
Unfortunately, common sense tells us that at times as we pick through what remains we are getting it wrong. Assumptions are made and many times artifacts or structures seem to tell a story which later turns out not to be so, or possibly we never discover that it is not true. Such are the current suspicions concerning the long ago frontier post called Sevier Station.
Seasoned lifelong Clarksvillians will commonly tell you, "Oh yes, that is Sevier Station, everyone has always known that is Sevier Station. For over a hundred years everyone has been sure that is Sevier Station. " But what evidence is there? Well, nothing concrete. Just hearsay and probability based upon the location of the building and its obvious "oldness".
I have come to realize the story behind Sevier Station has captivated many people. It is the story of human struggle, loss, and still despite all that's been written about it and researched, elements of it are shrouded in mystery and lost to time.
Yet, still questions remain about it. For example, the most recent question has been brought about by a theory as to whether the limestone building on Walker Street really is part of the original Sevier family settlement ca. 1790. This is a great question and we should always question and reevaluate things. Yet, we should also question the new questions! Inquiry is vitally important in order to arrive at the most accurate interpretation possible for both present day Middle Tennesseans as well as those who will learn from us in the future.
Local historians have raised the question as to the accuracy of the interpretation of the old limestone building on Walker Street. And their opinions should definitely be listened to and considered. They are backed by the credibility due them based upon their decades of research, experience, and acquired knowledge which makes them invaluable assets to our community.
But, I have decided to play devil's advocate here…well, because someone always should, don't you think?
The new theory proposes an alternate site. This alternate site is located approximately 1300 feet south of the old limestone building along the bluff and near a spring. The theory proposes a more accurate location would be based upon the following criteria common among 18th century frontier stations:
Stations that were built in the late 18th century were built in very close proximity to a spring as a water source.
Frontier station blockhouses would have been built from nearby timber (versus stone).
An old buffalo trace will be in close proximity to the station.
An historic cemetery will be nearby as well.
These are the common characteristics of historic frontier stations along the Cumberland, so the theory says.
First of all, it should be noted that both sites meet the criteria for proximity to an old buffalo trace and historic cemetery. An old cemetery that is yet to be properly marked exists behind the park or playground on A Street. It is claimed that evidence of an old buffalo trace can also be seen there.
Yet, the new argument states that the old limestone building does not meet the criteria of proximity to a water source. It is at least 1300 feet from the spring located near the bluff between Fort Defiance and Trice Landing. This distance is considered too far to have been the water source for the station. Consequently, a conclusion has been made that the actual station must have been located in close proximity to the spring.
It is also strongly advocated that Valentine Sevier's blockhouse would have likely been a log structure, thus the old limestone building could not have been Sevier Station. It has been further proposed that what has been believed to be Sevier Station is instead merely a detached kitchen from the 19th century home built on the same lot – the Atkinson house.
Well, here is a different take. According to other late 18th century historic sites, the need of a spring as a primary water source is not always so. For example, there is a home down in Goodlettsville, TN called the Bowen House. It is located within the vicinity of Mansker's Station. (If you would ever like to take an historical field trip for yourself one day, I highly recommend their tour. You will learn plenty!) Anyway, this home was built in approximately 1787, so within 3 years of the purported Sevier Station. And what did it use for a water source? It used a well.
Furthermore, our beloved past county historian, Ursula Beach quotes in her book, "Montgomery", a description of the property in question from an auction advertisement published in 1819. It says, "At public auction on April 24, 1819, lots were sold in the future town of Cumberland to be located on lands formerly owned by Valentine Sevier….A natural well and two springs guaranteed a constant water supply."
And as if that were not enough, there is more evidence to support the theory that the Sevier's water source was near the old limestone building. In 2001, an archaeological investigation was conducted of both Sevier Station and Fort Defiance by TRC Garrow Associates, Inc. with Dr. Larry McKee as the primary investigator. Within this report it is documented that evidence of a possible water source exists in the northwest corner of the lot where the old limestone building now sits.
The report states, "In the lot's northwestern corner, toward its back edge, a square six inch-wide outline of concrete marks the probable location of a well. A portion of the outline is buried below the ground, but it appears to have been about 56 inches square….The concrete material used in the well and sidewalk date its construction to no earlier than the late nineteenth century. This may have been a relatively late improvement to a long-established well…The possible well described above is set along this edge. The slope in this area tilts to the northwest, running toward an apparent filled-in sinkhole located near the lot's northwest corner…It may be that the depression was originally the location of a spring, with the presence here of the well and the possible sinkhole adding weight to this interpretation….Permanent settlement here, by the Seviers or by those who followed them to this area, would have been situated to provide easy access to a permanent water source. This depression may be the remnant of such a source".
Not only was the old limestone building likely located next to a well, but it appears it is possible there was a spring there also.
Well, then what about it being built of limestone instead of being a traditional blockhouse built of logs? That is also explainable. A common practice among raiding Native Americans (and to be accurate, also raiding Euro-Americans) was to pillage and plunder and then burn the homes of the settlements. Other settlers such as General Daniel Smith and Captain William Bowen also built homes during the same time frame as the Seviers. Unfortunately, General Smith's first log cabin was burnt by the Native Americans in 1787.
It is known that General Smith and Captain Bowen compared notes before building their permanent homes. They both decided upon either stone or brick structures with thick walls in an effort to provide more protection for their families and lessen the chances of loss through fire. Captain Bowen built the home pictured above that used a well as a water source and General Smith built a beautiful limestone home named Rock Castle which still stands today in Hendersonville, TN on the shores of Old Hickory Lake. General Smith and Captain Bowen both hired skilled masons to build their homes.
Yet, after workers were attacked and killed by Native Americans during the construction period of Rock Castle it became difficult to find replacements! When Rock Castle was completed its exterior walls measured 22 inches thick! In comparison Bowen House has a wall thickness of 17 ¾" and Sevier Station's walls are approximately 18".
Another drawback to building log construction on the frontier was the common occurrence of the chinking being removed by attackers in order to shoot through the holes that were created. This actually occurred during the attack at Sevier Station. Elizabeth Snyder (Valentine's daughter) was shot through a hole between the logs after she had fastened the door of her cabin. The fact that the structure remained during and after the massacre of 1794 while the other homes burned could also be attributed to its stone construction. Furthermore, Valentine Sevier was not a stranger to living in a stone home. His childhood home in Virginia was also made of stone.
I also found another home built from stone in the area. This is the home of Hugh Rogan, an Irish immigrant and quite the colorful character. This home was most likely built in the same decade as Sevier Station. It is now referred to as Rogana and has been relocated to Bledsoe's Fort Historical Park in Sumner County, TN. You will notice the striking similarities to Sevier Station such as the window and door placements, rectangular shape, materials, and of course the chimney's central location.
Now, to address the theory that the old limestone building was actually built around the same time as the Atkinson house on the current lot where it sits in approximately 1819 and used as a detached kitchen for that house; this idea has gained credence recently since an explanation is needed of some sort for the building's existence if it is not Sevier Station. To say its very existence is extremely problematic to the new Sevier Station theory is not an overstatement.
I spoke with one of the men who participated in a restoration of Sevier Station around the time of Clarksville's Bicentennial Celebration (approximately 1985) named Dan Hanley. He is a local builder and artist in Clarksville. He shared with me that the restoration was completed by Langford and Simpson Construction Co. and entailed replacing the beams and split shingle roof of the structure using the same type of tools and techniques our 18th century ancestors would have used in the original construction.
Also, during this restoration, architect Charles Waterfield researched the formula of the mortar that was used to replace the aging mortar between the limestone blocks in order to ensure historical accuracy. Hanley also claimed that he inspected the Atkinson house during that time and remarked that the construction materials and methods of the old limestone building and the Atkinson house were vastly different and it would be highly unlikely they were built at the same time.
Add to this observation one of my own – the Atkinson house and the limestone building stood together on the same lot for over 150 years. The Atkinson house was torn down at the end of the last century while the limestone building was preserved. The limestone building has a small window or possibly a gun port on the east side. If the building was constructed at the same time as the Atkinson house this opening would have faced directly into the back of that house. That makes no sense. This also seems indicative of the fact that the structures were built at totally different times.
The last argument being made to lend credence to an alternate site for Sevier Station carries the most merit, yet there are still plausible explanations. During the archaeological investigation completed in 2001 (and mentioned above), not one 18th century artifact was discovered near the old limestone building. At first glance this seems to be a pretty heavy argument that the structure has been wrongly interpreted for over a century.
Yet, during this same investigation only one minie ball was found at Fort Defiance, a nearby civil war site that is well documented and authenticated. The lack of artifacts at both sites can be attributed to the fact that both sites have been well picked over during the years by relic hunters. Add to this the fact that the Sevier family only lived at the site at most four years. This is not much time for artifacts to have accumulated around Sevier Station.
Also, many of the other buildings that were a part of the station and burned during the attack had to have been located where modern homes now stand. The amount of disturbance due to construction over the years must be substantial.
So, in conclusion which theory about Sevier Station is true? Where does this leave us? The truth is that no one can say definitively at this time. There is not enough evidence left to us from our ancestors to authenticate it 100%. Wouldn't it have been great if Valentine had mentioned in one of his letters that his blockhouse was made of stone or if someone had thought to merely make a sketch of the station? But, nothing of the sort exists.
All we have is circumstantial evidence and how I wish we had direct evidence instead! That is part of the reality of the endeavor of historical interpretation – sometimes that is just the case. An argument can be made for both sites, the traditionally recognized location with the old limestone building and the unexplored area near the spring down by the bluff.
Yet, it is my opinion that the circumstantial evidence presented above leads us to the most accurate historical interpretation at this time – which is that yes, Sevier Station really is Sevier Station.
"History is indeed an argument without end".
– David Chandler
For more on the series, see:
Clarksville Beginnings: The Early History of Sevier Station – Part 1
Clarksville Beginnings – Part 2: Revisiting the Massacre at Sevier Station; In Their Own Words
Clarksville Beginnings – Part 3: What Kind of Man Was Valentine Sevier?