Austin Peay State University History Honor Society wins fifth "Best Chapter of the Year" award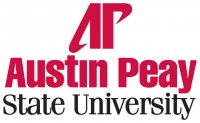 Clarksville, TN – Earlier this month, Dr. Minoa Uffelman was feeling a bit nervous. The Austin Peay State University associate professor of history was eager to find out if APSU's Phi Alpha Theta (PAT) History Honor Society had won "Best Chapter of the Year" for an unprecedented fifth year in a row.
The National PAT headquarters usually sent her a congratulatory letter in August, but the month passed without any notification.
"I was checking my mailbox every day," Uffelman, the chapter's advisor, said. "I was beginning to get very nervous."
But on the morning of September 5th, she checked her mail again and discovered a familiar looking letter waiting for her. The University's PAT chapter had in fact won "Best Chapter of the Year" for 2013.
"I'm thrilled to have been at the helm of this organization and have its excellence recognized five times," Uffelman said. "We have not slacked off in any way."
Dr. John W. Steinberg, the new chair of the APSU Department of History and Philosophy, was equally impressed by the club's award. He previously served as a PAT faculty advisor for 10 years at Georgia Southern University.
"I came out of a department that had an active chapter, but we were not nearly as active as this chapter," he said. "We did, maybe, a quarter of the activities of this chapter."
Dr. David Rands, APSU assistant professor of history, took over advising duties for the club last spring when Uffelman was awarded a Faculty Professional Development Assignment for that semester. He knew he had some large shoes to fill.
"There was a fair amount of pressure there, but the benefit is, I had a lot of support from the rest of the department," he said. "I think there is a fairly high standard for these students, and it's a testament to how everyone in the department supports it that we're able to keep winning this award."
The award recognized another exemplary year for the club, which hosted or attended more than 50 events in the fall and spring semesters, including academic conferences and volunteer opportunities.
In May, the group also published the third volume of Theta-Delta, a scholarly journal featuring academic papers by APSU students who had presented at conferences in recent years. Patrick Toth, incoming PAT chapter president, plans to build on that success in order to win a sixth award next year.
"We have a lot of work to do," he said. "We're doing many more new things this year. We're involved in other conferences. And we're going to stay busy. If we can stay busy, we can win six in a row. We are passionate about history and we are passionate about what the honor society is and does."
The PAT chapter received a $250.00 check for winning the award. Each year, the club uses that money to purchase books for the APSU Woodward Library. In the last five years, the organization has donated $1,250 to the library for new books.
Earlier this week, Uffelman received another bit of good news. The National PAT organization awarded the APSU chapter the Nels A. Cleven Award. Chapters that are awarded "Best Chapter" five times receive this distinguished honor. Cleven began Phi Alpha Theta in 1921 at the University of Arkansas.
"This is a major accomplishment and we are very proud to have achieved the honor," Uffelman said.
For more information on the APSU PAT chapter, contact Uffelman at .