Calling All Prospective Cratchit Children: Auditions for A CHRISTMAS CAROL at the Roxy Regional Theatre on October 24th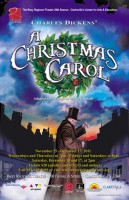 Clarksville, TN – Local youth will have the opportunity to work alongside professional actors in A CHRISTMAS CAROL when the Roxy Regional Theatre holds auditions for the Cratchit children on Monday, October 24th, at 5:00pm.
The Roxy will be selecting multiple casts of the Cratchit children: Martha, Peter, Belinda and Tiny Tim. Interested auditionees do not need to prepare anything. A script will be provided for the audition, so they must be able to read.
A CHRISTMAS CAROL runs November 25th through December 17th at the Roxy Regional Theatre, playing Wednesdays and Thursdays at 7:00pm and Fridays and Saturdays at 8:00pm, with 2:00pm Saturday matinees on December 10th and December 17th. (Performances will not be held on Wednesday, November 30th, and Thursday, December 1st.)
Roxy Regional Theatre
100 Franklin Street
Clarksville, TN 37040
www.roxyregionaltheatre.org
931.645.7699