APSU Center of Excellence Celebrates 25 Years with Major Arts Events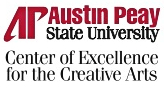 Chris Burawa, the executive director of the Austin Peay State University Center of Excellence for the Creative Arts, looked tired. He sat slumped in a booth at the Einstein Bros. Bagels coffee shop with his Blackberry on the table, and a large poster filled front and back with event listings.
"It's the Center's 25th anniversary," he said, lifting the poster, "and we're going to have a yearlong celebration."
For the last several weeks, Burawa has wrangled and negotiated with world-renowned artistic talents to create a calendar of events for what looks to be one of the most promising years in the history of the Center. Individuals such as best-selling and award-winning author Joyce Carroll Oates and acclaimed modern dancer and choreographer Molissa Fenley are just a few of the high-profile names coming to APSU during the 2010-11 academic year.
"We're continuing to ramp up the quality of our events and our programming," Burawa said. "We're exploring new things, new ways of art being on our campus and in our community on this 25th anniversary."
The APSU Center of Excellence for the Creative Arts was established in 1985 by the Tennessee General Assembly as part of then Gov. Lamar Alexander's program to improve higher education in the state. For the last two-and-a-half decades, it has offered undergraduate students the opportunity to work one-on-one with nationally acclaimed artists.
"It's rare that an undergraduate school has the funds and ability to do that," Dr. George Mabry, the Center's first executive director, said. "If you go to graduate schools, big schools, it's not unusual for them to be working on a day-to-day basis with a celebrated artist or a known writer. But it is unusual for an undergraduate too."
The Center's Acuff Chair of Excellence is a major component in providing this intimate type of instruction. In 1985, country music legend Roy Acuff generously endowed the chair, which brings regionally and nationally acclaimed artists to campus each year to work with students and the community.
"There will be four showcase events to the celebrate the Center's anniversary this year," Burawa said, "and the first showcase will be to acknowledge the gift of Roy Acuff."
http://www.youtube.com/watch?v=MXjnEDRMzJw
On September 16th, the two-time Grammy-winning Nashville Bluegrass Band will perform a tribute concert to Acuff in the Music/Mass Communication Building's Concert Hall. That event will kick off the Center's yearlong celebration and set the high standard for the other showcases to follow.
In October, the multifaceted artist Meredith Monk will bring her seminal mixed-media work "Education of a Girlchild Revisited" to the concert hall.
"Monk is considered one of our pioneering artists in our country," Burawa said. "She was the recipient of the MacArthur Foundation's prestigious 'Genius Award' in 1995, and she was among the first artists back in the '70s to bring together different disciplines to create a whole new category of art, which is performance art. She integrates music and original composition with vocals, visual arts, theater and dance."
Oates, a National Book Award and Pulitzer Prize award winner, will stop by APSU in February to give a reading of her work. She published her first book in 1963, and every year she has been the front-runner among American authors considered for the Noble Prize in literature.
"There's nothing she can not do and do brilliantly," Burawa said. "She's among the foremost innovators of what could be called American Gothic and grotesque, and her work continues to inspire writers."
The final showcase event will be in March when Fenley brings her dance company to the concert hall. In her 33-year career, Fenley has choreographed more than 65 works for such esteemed clients as the Australian Dance Theatre, the Deutsche Oper Ballet of Berlin, the National Ballet School of Canada, the Ohio Ballet and the Korea/Japan Performing Arts Exchange Association, among others.
"She's considered a pioneer of American contemporary dance," Burawa said.
The year will also feature several smaller events that will be free and open to the public.
"These anniversary performances are only the framework in which to promote our incredible season calendar of events," Burawa said. "There isn't a university in the Southeast that can rival the number and quality of programs and visiting artist series that our departments bring in. What I am most looking forward to are the events that showcase our talented faculty and students. Anyone who looks to Nashville for arts and culture should take a look at what we're doing."
A listing of all the events will soon be available on the Center's website, www.apsu.edu/creativearts. The celebration of the Center's anniversary will culminate in April when the APSU Opera presents "Ben and the Virtues," with music by Mabry and storybook by APSU history professor emeritus Dr. Richard Gildrie. The show is about the young Benjamin Franklin and his friends, both real and imaginary, as they "eat, drink and explore the complexities and joys of life."
Burawa understands those "complexities and joys" in his own life. The hard work that has exhausted him, organizing the yearlong celebration, is really just beginning but the extraordinary artistic events coming to Clarksville this year will be well worth the effort.
"Our job (at the Center) is to continually explore and innovate," he said. And with a tired smile, he picked up his Blackberry and calendar of events from the coffee shop table and went back to work.
For more information on this year's 25th anniversary of the Center of Excellence for the Creative Arts, call Burawa at 931-221-7876.