Clarksville, TN – During the Austin Peay State University (APSU) Board of Trustee's summer meeting on June 5th, 2020 trustees honored five individuals with the board's annual awards – the APSU Philanthropist of the Year Award, the Govs Who Lead Through Military Service Award and the Govs Who Lead Through Service Award.

Clarksville, TN – For the first time ever, Austin Peay State University (APSU) held a virtual commissioning ceremony for its graduating class of ROTC students.
The students received their commissions at their homes on Wednesday, May 13th, 2020 while their ROTC officers – to keep with the U.S. Centers for Disease Control and Prevention (CDC) guidelines – conducted the commissioning ceremony in a small, socially distanced group in the front lobby of the Memorial Health Building on campus.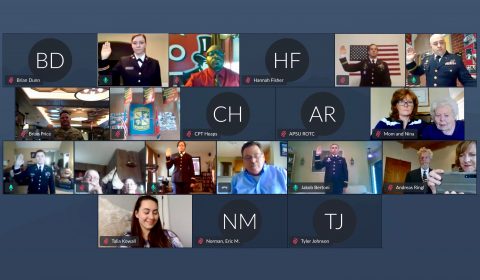 [Read more]

Clarksville, TN – Austin Peay State University (APSU) alumnus John McGee certainly knows how to celebrate an anniversary.
During his recent visit to campus for the November 9th, 2019 Homecoming football game, he donated more than $50,000 in gold coins to support his alma mater and commemorate his "Golden Graduate Year," which is the 50-year anniversary of his graduation from Austin Peay State University in 1969.

Clarksville, TN – Austin Peay State University (APSU) and the Fort Campbell Army installation deepened their growing relationship on November 6th, 2019 when the two organizations initiated an Intergovernmental Support Agreement, allowing APSU faculty and students to identify wetland ecosystems within the 105,000-acre Army post.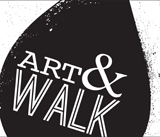 Clarksville, TN – Produced by The Downtown Clarksville Association, First Thursday Art Walk is a free, self-guided tour spanning a 5-block radius that combines visual art, live music, engaging events and more in the heart of Downtown Clarksville.
With 10+ venues, bars and businesses participating each month, the First Thursday Art Walk in Clarksville is the ultimate opportunity to savor and support local creative talent.

Clarksville, TN – Austin Peay State University (APSU) cadet Jakob Bertoni had one week to relearn everything he was taught in ROTC before being dropped into the Hawaiian jungle.
Clarksville, TN – A local suicide prevention summit will feature a "lived-experience" panel discussion led by two people whose lives have been touched by suicide.
Bryan Flanery, an U.S. Army Veteran who was injured in combat in Afghanistan and who survived a suicide attempt, and Cynthia Johnson, an author and hospice coordinator who endured the tragedy of losing her son to suicide, will share their stories.
[Read more]

Clarksville, TN – The Austin Peay State University Foundation (APSU) recently received a contribution from the Fortera Credit Union to establish the Cleveland "Mario" Richardson Memorial Endowment in memory of APSU alumnus Cleveland "Mario" Richardson ('10).
To be eligible for the scholarship, applicants must be enrolled full-time with a major in finance. The award is renewable for recipients who continue to meet the criteria each year.

Clarksville, TN – Austin Peay State University (APSU) recently named retired Lt. Col. Michael L. Peeler, former U.S. Army Field Artillery officer, first assistant director for veteran and career advising.
In this new role, Peeler will provide career counseling to the University's military-affiliated students, as well as assist students and alumni with career exploration, internship opportunities and job preparation.

Clarksville, TN – Jaclyn Lyons grew up in Chicago, in a neighborhood so rough that most of her childhood friends ended up in prison, addicted to drugs or the victims of violence. In 2009, Lyons joined the U.S. Army to escape that bleak environment, but she never forgot the young faces of her friends from those years before they lost hope.