Clarksville, TN – Austin Peay State University (APSU) graduate Khadejah Scott's Epcot story involves wasps.
"They don't sting, and they're really small," Scott said, "similar to the size of an ant when they're at their biggest."
But these wasps could deliver a big economic impact.

Clarksville, TN – Austin Peay State University's Phi Alpha Theta (PAT) history honors society has long been among the best in the country, recently winning Best Chapter of the Year Division IV for the seventh consecutive year.
Two members of the University's chapter were chosen to join members of 77 other PAT chapters in presenting their historical research at the society's biennial national conference, held January 6th-10th in Orlando, FL at the Walt Disney World resort.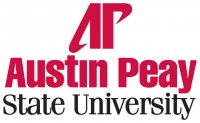 Clarksville, TN – Deanna Carter, an Austin Peay State University history graduate student, felt a little like a celebrity. Whenever she walked through the lobby of the Hilton at Orlando's Walt Disney World resort, people would stop their conversations and glance over at it.
Their attention was likely focused on her gray blazer, which had the words "Austin Peay State University Phi Alpha Theta History Honor Society" stitched across the front.
"There were people from as far as California there and from some very prestigious schools, such as Carnegie Melon University, and they all knew us," Carter said.