Clarksville, TN – On Friday morning, Austin Peay State University (APSU) moved a step closer to offering its second doctoral degree, with the aim of addressing a mental health crisis currently affecting many military communities.
During its spring meeting, the APSU Board of Trustees approved moving forward with a Doctor of Psychology degree in counseling psychology with a concentration in serving military personnel, veterans and their families.

Clarksville, TN – If you ask Austin Peay State University (APSU) student Albert Wiley to list all the places he's visited, you should probably take a seat because it'll take a few minutes.
"I went to Panama, Ecuador, Belize, Honduras, Korea, Holland, Afghanistan, Iraq, Kuwait, Saudi Arabia, Thailand, Japan, England, Canada…let's just say numerous countries," he said.

Clarksville, TN – Earlier this fall, the Tennessee Higher Education Commission (THEC) awarded Austin Peay State University (APSU) with a Veterans Reconnect Grant to support a new Military Pathway Pilot Project designed to help military and veteran students transition quickly and easily into college or new career fields.

Clarksville, TN – On Friday, September 14th, 2018 Tennessee Governor Bill Haslam, who will leave office when his term ends later this fall, visited Austin Peay State University, and he asked the school's Board of Trustees what he should tell his successor about the University. Don Jenkins, a trustee, immediately mentioned Austin Peay's military focus.
"This is a very military-friendly town, but it's an incredibly military-friendly college," he said.

Clarksville, TN – Austin Peay State University (APSU), one of the state's leading providers of higher education to military-connected students and their families, has a long history of supporting veterans on campus and within the community.
This month, in recognition of Veterans Day, the University is hosting several events in honor of the men and women who have served this country.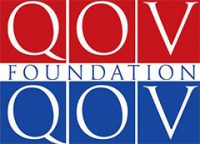 Clarksville, TN – In bring awareness to the service members and veterans that take their lives everyday, Quilts of Valor, Quilting in Clarksville held a Sew for 22 event on September 22nd, 2017 at Absolutely Fun Sewing.
The United States Department of Veterans Affairs released a study which showed that roughly 22 veterans were dying by suicide per day, or one every 65 minutes.
"We do not want to continue to see this. One life is too many." stated Roberta Samuels, Quilts of Valor. "So we organized this day with the idea from Cinde Jones with Absolutely Fun Sewing. She offered to allow us to sew in the store."

Clarksville, TN – The artistic talents of Austin Peay State University military-affiliated students will be on display as part of a special exhibit, titled "Showcasing Our Veterans."
The exhibit, now in its second year, is set for November 12th from 10:00am – 2:00pm in the APSU Morgan University Center lobby, and features works of art by APSU students and faculty who have served in the military.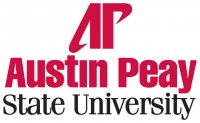 Clarksville, TN – In honor of the military students and their families who help make Austin Peay State University strong, the 2015 APSU Governors Games Powered by CrossFit Clarksville will benefit the APSU Military Alumni Chapter Scholarship Endowment.
All proceeds from the event, which takes place Saturday, August 1st from 8:00am – 7:00pm at Governors Stadium and the Foy Fitness & Recreation Center Pool on the University campus, will fund scholarships to assist those men and women keeping our country safe.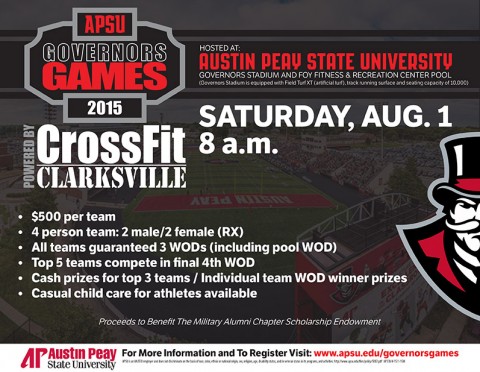 [Read more]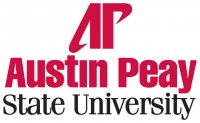 Clarksville, TN – Austin Peay State University's longstanding support of military veterans has led the Tennessee Higher Education Commission (THEC) to name the University a Veterans Education Transition Support (VETS) Campus.
According to THEC, VETS Campus certification is awarded to higher education institutions that "not only prioritize outreach to veterans, but successfully deliver the services necessary to create a supportive environment where student veterans can prosper while pursuing their education."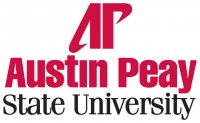 Clarksville, TN – Some years move along at a quiet, steady pace, continuing the traditions and patterns of the previous year before quietly fading into the next. No milestones mark the passage of time, and people often find themselves bored or, worse yet, uninspired.
At Austin Peay State University, 2014 was not that type of year. The last 12 months passed with such speed, thanks to major changes within the University, that the campus community will likely remember this past year as a crucial time in Austin Peay's progression into a leading institution of higher learning.