Clarksville-Montgomery County annual Memorial Day Ceremony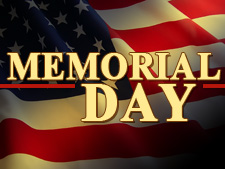 Clarksville, TN – Clarksville-Montgomery County hosted its annual Memorial Day Ceremony at William O. Beach Civic Hall, Monday, with Guest Speaker Major (Ret,) Bill Summers, US Air Force.
Hundreds of people filled the room to honor America's fallen soldiers, both known and unknown, as local leaders took turns at the podium sharing their thoughts on the meaning of the heroic sacrifice so many have made for this country, and the impact that sacrifice has had on us all.
Clarksville, TN – On Sunday, May 25th, the Vietnam Veterans of America Chapter 396 held their annual Candlelight Vigil to remember the men and women who were left behind in Vietnam when American forces withdrew in 1975.
It is a solemn occasion when a nation gathers together to honor its soldiers, those who lived to come home, but even more importantly those who did not.
Clarksville, TN – The Clarksville Area Chamber of Commerce announces upcoming events during the month of June.
A Power Breakfast will be held at Riverview Inn, 50 College Street, on June 9th at 7:30am. Rudy Kalis will serve as the keynote speaker for this event. From his humble beginnings as a 5-year-old German immigrant, Emmy award winner Rudy Kalis has garnered a long and exciting career as one of the nation's premiere sports newscasters. Rudy has crossed paths with some of the greatest names in sports history such as Muhammad Ali, Michael Jordan, Jack Nicklaus, Wayne Gretzky, Wilma Rudolph, and Darrell Waltrip. [Read more]