Visitor Spending in Montgomery County Tops $244.7 Million in 2018

Clarksville, TN – Montgomery County saw the second-highest growth rate in tourism spending of all 95 Tennessee counties during 2018. Direct travel spending increased 9.12% over 2017, for a record-high of $244.7 million.
Tennessee Governor Bill Lee and Department of Tourist Development Commissioner Mark Ezell announced Tuesday that the state hit a record-high $22 billion in domestic and international travel spending, up 6% from 2017.

Clarksville, TN – Visit Clarksville and CDE Lightband presents Mic Check Monday at Downtown Commons this summer. Mic Check Monday is a new free concert series. Concerts will take place each Monday in June and July.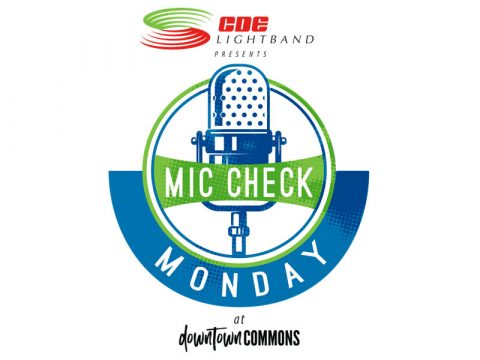 [Read more]
Historic Collinsville

Clarksville, TN – Historic Collinsville opens for the 2019 season on Saturday, April 20th with its annual Spring Homecoming. This year, the pioneer settlement is also hosting an Easter Extravaganza with egg hunts and prizes for ages 1-12.
Visit Clarksville

Clarksville, TN – Visit Clarksville, CDE Lightband and Clarksville Parks and Recreation will host Clarksville's second competitive gaming tournament, F2 Con, Thursday-Saturday, April 18th-20th at the Wilma Rudolph Event Center.
The three-day competition offers tournament play, casual gaming, and fun for all ages with retro gaming, vendors and live streaming. All gaming will take place on CDE Lightband's gigabit internet.
Build and Map a Trip; Explore Things to Do, Events, Hotels & More
Clarksville, TN – Planning the perfect day in Clarksville just got much easier! We're excited to unveil the Build Your Trip Guide on our website with integrated mobile apps, an interactive way to map out everything you don't want to miss in Clarksville.
Designed with our partners at Visit Widget, this tool provides a new way to explore what the city has to offer, including upcoming events, popular restaurants, downtown hot spots, hotels, and points of interest.

Clarksville, TN – If you're thinking about registering for Clarksville's First Gaming Convention, F2 Con, don't wait, event organizers say.
Visit Clarksville, CDE Lightband and Clarksville Parks and Recreation will host Tennessee's newest gaming and esports convention, F2 Con, Friday and Saturday, April 27th-28th at the Wilma Rudolph Event Center.

Clarksville, TN – Tennessee Governor Bill Haslam and Department of Tourist Development Commissioner Kevin Triplett today announced Tennessee tourism's direct domestic and international travel expenditures reached an all-time high of $19.3 billion in 2016, up 4.7 percent or almost $1 billion, over 2015. Numbers for Montgomery County increased to $211 million, up 3.0 percent, or $6 million, over the prior year.
For the ninth consecutive year, Montgomery County has ranked 11th among Tennessee counties for tourism spending. Ninety-two of the state's 95 counties saw gains in tourism spending from 2015 to 2016.
Visitor Spending Expected to Total $2.5 Million

Clarksville, TN – Clarksville-Montgomery County is poised to welcome nearly 3,000 guests next week for two divisions of the Amateur Athletic Union's Boy's 10-and-Under National Basketball Championships.
Since 1999, the city has hosted dozens of regional and national AAU basketball events. This year, 53 teams from 16 states including Utah, New York, Texas, New Jersey, Michigan, Maryland, Louisiana, Indiana and most states bordering Tennessee, will make their way to Clarksville for championship play.

Clarksville, TN – For horseshoe pitching enthusiasts, the 2017 HP Pro Tour Open Horseshoe Tournament will once again make its way to Clarksville. Montgomery County's Civitan Park, 650 Bellamy Lane, serves as home to the event, June 3rd-4th, 2017, marking the fourth year that the tour has included Clarksville.
The HP Pro Tour is a series of horseshoe pitching tournaments where competitors try to get as many ringers as possible and walk away with big cash prizes.

Clarksville, TN – Whether you've lived in the Clarksville area for most of your life, or you relatively new to the area, you might be surprised to learn about some of the more famous Americans who have connections to the community.
With a list totaling almost 70 individuals, Visit Clarksville officials decided to add a new section to their website that would showcase some of the area's most accomplished residents.