Clarksville, TN – On a mild November evening, Sidney Brown, 87, stood along the sidelines at Austin Peay State University's Fortera Stadium. He wore a blue blazer, which sagged from all the medals pinned above the left pocket, and a ball cap for the 555th Parachute Infantry, the U.S. Army's famed all-black airborne unit.

Clarksville, TN – Austin Peay State University (APSU) is accepting student applications for two Military Alumni Chapter scholarships for the 2019-20 academic year.
The APSU Military Alumni Chapter was founded in October 2012 for the purpose of supporting and recognizing military-related APSU alumni.

Clarksville, TN – November isn't a typical month at Austin Peay State University (APSU). As the state's leader in higher education for military-affiliated students, the institution traditionally recognizes the entire month, with its connection to Veterans Day, as an extended salute to all veterans and active-duty military personnel.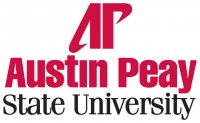 Clarksville, TN – The Austin Peay State University Military Alumni Chapter hosted its second annual scholarship endowment dinner on November 6th as part of the University's Homecoming Week celebration.
During the event, the chapter honored retired Command Sgt. Maj. Sidney Brown, a Vietnam War veteran and active member of the Clarksville-Montgomery County community.
Clarksville, TN – This November, Austin Peay State University will partner with Montgomery County and the Clarksville-Area Chamber of Commerce to honor the veterans and military-affiliated individuals who live, study and work in this community.
The University is tailoring its 2014 Homecoming Celebration that month to include the military theme "Gov Strong," creating a week long community and university celebration for local veterans. Both entities will host several events during the first week of November, culminating in a joint Homecoming/Veterans Day Parade through downtown Clarksville and campus at 10:00am on November 8th.