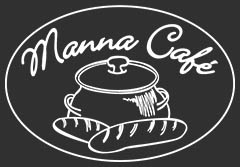 Clarksville, TN – Manna Café founders Kenny and Vicki York invite the community to join them in celebrating the release of Vicki's second book, Created for Fearlessness.
This free event will take place on Saturday, November 16th, 2019 from 5:30pm–7:30pm at the Manna Village. Enjoy music from Chris Crow, hors d'oeuvres, door prizes, book signing/ reading, and more.

Clarksville, TN – The Austin Peay State University (APSU) 74th annual homecoming parade on Saturday, November 9th, 2019 will celebrate two treasures dear to APSU hearts: our veterans and the Governors.

Clarksville, TN – Fall is the season for festivals and enjoying the last of the outdoors before winter makes its appearance. At Historic Collinsville Pioneer Settlement, you'll find events all throughout October to celebrate the season.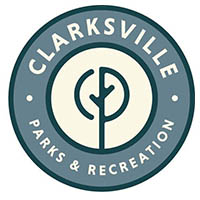 Clarksville, TN – A community favorite historic site, Fort Defiance Civil War Park and Interpretive Center, 120 Duncan Street, offers a variety of upcoming family-friendly events.
Festivities are diverse, offering something for visitors of all ages looking to have a great time at one of Clarksville's most treasured gathering places.
New! History Alive — 6:00pm to 9:00pm, Saturday, October 5th: Enjoy an evening of history, music, and 19th-century fare at this fundraiser hosted by the Friends of Fort Defiance.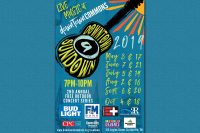 Montgomery County, TN – Downtown Commons' Downtown @ Sundown Concert series is nearly over! Come catch our second to last show Friday, October 4th from 7:00pm-10:00pm.
We're starting the night off with a local cover band that has been entertaining Clarksville for over 30 years! The Beagles will take the stage at 7:00pm to perform hits from the 70's all the way up to today.

Clarksville, TN – The sounds of marches, polkas, waltzes and German music typical of the Oktoberfest season will fill the hall of Clarksville's oldest professional theatre, the Roxy Regional Theatre, for one evening this autumn.
The Cumberland Winds German Band presents a special Oktoberfest concert in the intimate setting of the Roxy Regional Theatre on Wednesday, October 2nd, at 7:00pm.
Featuring vocalist Sarah Queen, musical selections will include "Alte Kamaraden," "Liechtensteiner Polka," "Einmal Am Rhein" and other favorite marches, polkas, waltzes, and German music typical of the Oktoberfest season.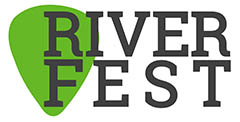 Clarksville, TN – The second night of Riverfest 2019 saw a diverse musical line-up that featured a range of genres from Country, to Rock, to R & B, all capped off by one of the nation's premiere Pink Floyd tribute bands, American Floyd.
This year's Family Zone, which is set up along the River Walk behind O'Charley's, is once again filled with fun, games, entertainment and educational activities that will appeal to the whole family.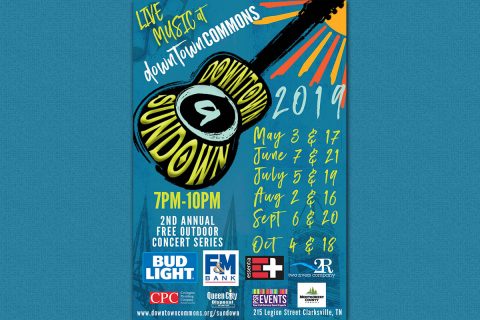 Montgomery County, TN – On Friday, September 6th, 2019, the Downtown Commons' Downtown @ Sundown Concert series continues from 7:00pm-10:00pm. Christian rock group, Awaken will perform at 7:00pm, with rock group Sedona taking the stage at 9:00pm.
Join us for a night of FREE music and fun. Food and activity vendors will be on hand and other food is also available in several of the downtown restaurants.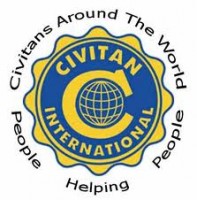 Cunningham, TN – Last Saturday, July 27th, 2019, the Central Civitan held the 111th Annual Lone Oak Picnic at the Central Civitan Club building located at 275 Highway 13.
This free event featured live music, inflatables for the kids, face painting, silent auction, a car cruise in and off course the BBQ the picnic is famous for.
Great day, great crowd, great weather, one hundred and eleven years of doing this and going strong," said Montgomery County Sheriff John Fuson. "This is one of the biggest and best organized community events that I have ever been to in Montgomery County. Talking to other Sheriffs that go to events across the state, they say the same thing."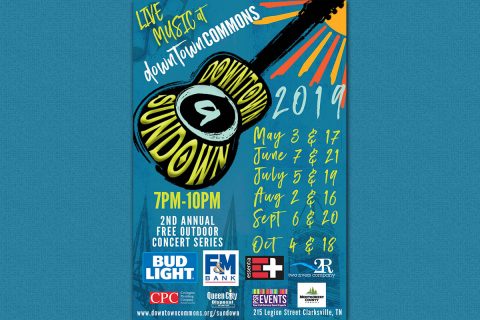 Montgomery County, TN – Downtown Commons' Downtown @ Sundown Concert series is this Friday, August 2nd from 7:00pm-10:00pm.
In honor of musician and educator, Mercy Yrabedra, Music 4 Mercy is made up of her former students as well as some new blood.
This 10-piece band is full of soul and funk.