Clarksville, TN – This November, during Austin Peay State University's 2019 Homecoming celebration, the University will honor six distinguished individuals with this year's APSU Alumni Awards.
The 2019 honorees are Outstanding Service Award recipients Dee Boaz and Shan Smith ('78); Outstanding Young Alumni Award recipients Catie Clinard ('11) and Bryan Johnson ('04); and Outstanding Alumni Award recipients Khandra Smalley ('05) and Richard Bibb ('65).

Clarksville, TN – Two members of the Austin Peay State University (APSU) senior leadership team were given new job titles this semester in order to take better advantage of their expertise and leadership skills.

Clarksville, TN – The Clarksville Area Chamber of Commerce is pleased to announce the addition of Phil Harpel to the Military and Government Relations position.
A lifelong resident of Clarksville-Montgomery County, Harpel has served in several roles supporting the members of our armed forces.
Clarksville, TN – Batson Nolan Law Firm attorney Katy Olita has been approved as a Tennessee Supreme Court Rule 31 listed mediator in general civil cases by the Tennessee Alternative Dispute Resolution Commission (ADRC). Mediation is an informal process by which parties have the opportunity to resolve a dispute by agreement.
The requirements to be listed by the ADRC as a Rule 31 Mediator in general civil cases include, being a person of good moral character and certifying in writing an intention to comply with the conditions and obligations imposed by Rule 31; having a graduate degree plus four years of full-time practical work experience; and completing 40 hours of general mediation training.

Clarksville, TN – The Clarksville Area Chamber of Commerce announces its 2017-18 Board of Directors.
Serving as chairman for a one-year term beginning July 1st, is Charlie Koon, Director of Workforce & Economic Development at Workforce Essentials. Koon was named the 2015 Middle Tennessee Workforce Services Employee of the Year by the Tennessee Department of Labor and in 2008 he was named Clarksville's "Citizen of the Year."
Clarksville, TN – Ricky Cumberland, a 20-year veteran of Clarksville Fire Rescue, has been promoted to Fire Marshal, Fire Chief Mike Roberts announced Friday.
Cumberland, 51 and a 1993 graduate of Austin Peay State University, has served as a Fire Prevention Officer with the department since 2001. He joined the city fire department in 1996 as a firefighter after three-years as a Clarksville Police Officer.
He officially begins as Fire Marshal on October 1st, and succeeds Ray Williams, who was promoted to Deputy Fire Chief earlier this year.

Clarksville, TN – Colonel Rob Salome, garrison commander at Fort Campbell, will visit Austin Peay State University at 8:00am on April 28th to help recognize an outstanding APSU ROTC cadet during the annual CSM Darol Walker Award Ceremony and Breakfast.
Jack B. Turner established the award several years ago in honor of Darol Walker, retired vice president of Jack B. Turner and Associates Inc. in Clarksville and retired command sergeant major in the U.S. Army.

Clarksville, TN – The Austin Peay State University Office of Alumni Relations has announced the recipients of the 2016 Candlelight Ball Awards. The Wendell H. Gilbert Award will go to Jack B. Turner ('67), president of Jack B. Turner and Associates, and the Spirit of Austin Peay Award will go to Josh Baggett ('05), district engineering technician with Cumberland Electric Membership Corporation.
Since 2011, the University has honored two individuals who have supported or brought recognition to APSU through their achievements or contributions. [Read more]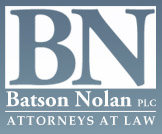 Clarksville, TN – Batson Nolan PLC is pleased to announce that Matthew J. Ellis is now a Member of the firm. Matthew was born in Clarksville and raised in nearby Cedar Hill, Tennessee. After graduating high school, he joined the United States Navy.
After his service, he returned home to attend Austin Peay State University. He graduated in 2000 and went on to attend law school at The Vermont Law School. Upon graduation in 2004, Matthew began his practice with Batson Nolan.

Clarksville, TN – During a special alumni awards ceremony on Saturday, October 24th, Austin Peay State University honored six distinguished individuals as part of its 2015 Homecoming celebration.
This year's honorees were Outstanding Service Award recipients Maggie Kulback ('77) and Mike O'Malley; Outstanding Young Alumnus Award recipients Michael Wall ('00) and Chad Kimmel ('02); and Outstanding Alumni Award recipients Fred Landiss ('69) and Dr. Joe Greer ('70).