Clarksville, TN – On Sunday, September 29th, 2019, the Gateway Chamber Orchestra will host their first concert of the 2019-20 season Masterworks Series at 7:30pm. Season tickets are on sale now, as well as tickets for the opening concert titled 'Artistry of Lorna McGhee.'

Clarksville, TN – Tickets are on sale now for the Gateway Chamber Orchestra's 2019-2020 Season – Emotion Abounds. This season, the GCO will perform inspiring musical programs that will transport audiences through time to explore the passionate works that have influenced centuries of music.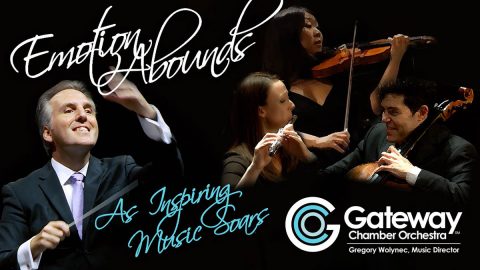 [Read more]
Gateway Chamber Orchestra

Clarksville, TN – Tickets are on sale now for the Gateway Chamber Orchestra's 10th Anniversary Season – Inspiration Abounds.
The four-concert Masterworks Series will explore composers that have shaped the Gateway Chamber Orchestra (GCO) over the past decade, culminating with a new festival dedicated to Franz Joseph Haydn in April. Internationally acclaimed soloists are scheduled to perform, including Los Angeles Philharmonic principal clarinet Boris Allakhverdyan.

Clarksville, TN – Two Austin Peay State University professors have been awarded summer research grants to further their development as both educators and professionals in their fields.
Associate Professor of Latin American Literary and Cultural Studies Dr. Osvaldo Di Paolo Harrison and Associate Professor of Music, Voice Dr. Jeffrey Williams have each been awarded $5,000 summer research grants by APSU's Department of Research to develop research projects during the summer, that may place them in a better position to seek external funding.