Clarksville, TN – Austin Peay State University Associate Professor of Creative Writing Dr. Amy Wright is preparing for a busy 2016, as the poet, author and teacher will publish four collections of her writing, including her fifth chapbook, "Wherever The Land Is."
A series of nonfiction essays comprised of the author's research into work, loss, Emily Dickinson, and entomophagy, or the human consumption of insects, "Wherever The Land Is" explores a possible answer to humanity's growing need for food sources.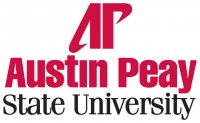 Clarksville, TN – The written words of Emily Dickinson, Sappho, Dorothy Allison, Abigail Thomas and Jane Tompkins all have something in common – their powerful voices speak for those misrepresented or underrepresented.
This is the basis of a research presentation by Dr. Amy Wright, assistant professor of creative writing at Austin Peay State University. She is one of several faculty members chosen to present their research and creative activity on campus during the 2011-12 academic year as part of the Provost Lecture Series.