Clarksville, TN – A holiday treat chock full of quick changes, outrageous costumes and funny-bone-tickling delights is returning to the corner of Franklin and First in Historic Downtown Clarksville this season.
Following last year's sold-out performances, Ryan Bowie and Brian Best will once again bring nearly two dozen colorful characters to life in the holiday hit comedy "A Tuna Christmas", playing December 2nd through December 17th in theotherspace, the 50-seat black-box theatre located upstairs at the Roxy Regional Theatre.

Clarksville, TN – Nearly forty characters appear in the latest offering upstairs in the Roxy Regional Theatre's theotherspace, and all of them are played by Executive Director Ryan Bowie.
Becky Mode's wildly funny one-man tour de force, "Fully Committed", plays the 50-seat black-box theatre located upstairs at the Roxy for four evenings only, February 26th – March 6th.
Described by The NY Times "a richly comic affirmation of everything ever heard, or suspected, about the bad behavior that good food can inspire," the play centers on Sam, a struggling actor who works as a reservation clerk at a chic Manhattan restaurant. Coercion, threats, bribes, histrionics — a cast of desperate callers will stop at nothing in their zeal to land a prime reservation, or the right table.

Clarksville, TN – Have you heard about the Roxy Regional Theatre's new subscription packages? Save money on tickets, and see all of the great offerings in the Roxy Regional Theatre's 33rd Season! With savings ranging from $20.00 to $145.00, this is an offer you cannot afford to miss … but hurry, as it only lasts until Thursday, August 27th.
Subscriptions allow you to receive the best vantage point at the best price by choosing the exact seat you would like to sit in for each performance.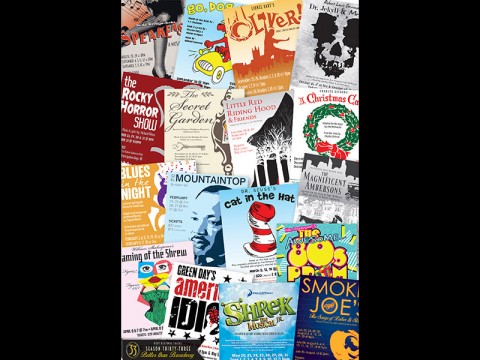 [Read more]

Clarksville, TN – In 1983 an abandoned movie house was saved from the wrecking ball, and on November 3rd, what has become the cornerstone of arts and entertainment in Clarksville-Montgomery County opened to a grand ovation.
Through grit, determination and support from likeminded individuals, the Roxy Regional Theatre is now poised to celebrate 33 years of providing an educational and artistic outlet for the Southeast.
Featuring world premieres, red-hot musicals, theatre standards and fantastic children's programming, the Roxy Regional Theatre's 2015-2016 mainstage season will open on September 25th with Charles Dickens' classic tale of the boy who asked for more, Lionel Bart's "Oliver!"
[Read more]