Clarksville, TN – The sounds of West Africa will fill the hall of Clarksville's oldest professional theatre, the Roxy Regional Theatre, for one afternoon this month.
The Cumberland Winds celebrates Black History Month with a special concert in the intimate setting of the Roxy Regional Theatre on Sunday, February 23rd, 2020 at 2:00pm.
Organized by Yvonne Kendall and Mike Ritter, this narrated performance of instruments, song and dance will travel through time from West Africa to the Americas — North America, South America and the Caribbean — celebrating the musical influence of African culture in the New World.
Clarksville's Civil War story meshes with Black History Month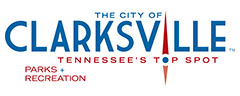 Clarksville, TN – A community favorite, Fort Defiance Civil War Park and Interpretive Center, 120 Duncan Street, offers a variety of events.
Festivities are free of charge and diverse, offering something for visitors of all ages looking to have a great time at one of Clarksville's most treasured historic sites.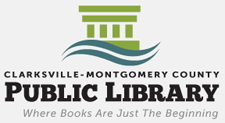 Clarksville, TN – February is African-American History Month, and the Clarksville-Montgomery County Public Library is celebrating in a variety of ways! There will be special programs all month, intended to educate participants on African-American History. All of the library's events are completely free of charge.
Have you ever wondered about your ancestry but aren't sure where to begin your research? The Beginner Genealogy Class this weekend will focus specifically on studying African-American genealogy. All experience levels are welcome to attend on Saturday, February 10th from 10:00-11:00 a.m. The class will be held in the computer lab on the second floor.
Black History Month features 'The Alex-Zan Story'

Clarksville, TN – In celebration of Black History Month, Clarksville Parks and Recreation will present "Words of Power: The Alex-Zan Story" at 5:30pm on February 13th, 2018 at the Wilma Rudolph Event Center located at 1190 Cumberland Drive.
The event is free to the public.
Saturday event will celebrate local congregations
Clarksville, TN – Clarksville Mayor Kim McMillan has proclaimed Saturday as a day to celebrate the African American Church.
"African American Churches have played a vital role in helping to make the City of Clarksville and communities across our Nation stronger by reaching out to others in need," Clarksville Mayor McMillan says in the proclamation. "The City of Clarksville joins with all its citizens to celebrate the many contributions African American Churches have made to our City and Country."

Clarksville, TN – During his last night on earth, what thoughts and emotions might have passed through the mind and heart of Dr. Martin Luther King, Jr.? During Black History Month, in honor of the civil rights leader, the Roxy Regional Theatre explores this idea in five public performances of "The Mountaintop", February 24th – February 27th.
On the evening of April 3rd, 1968, after delivering one of his most memorable speeches, an exhausted Dr. King retired to his room at the Lorraine Motel in Memphis. In this gripping re-imagination of events occurring in the hours before his assassination, playwright Katori Hall picks up with a fictional depiction of a mysterious stranger who arrives at the motel room with some surprising news, forcing Dr. King to confront his destiny and his legacy to his people.

Clarksville, TN – The Customs House Museum and Cultural Center is located in historic downtown Clarksville, Tennessee. Come explore an entire city block featuring large gallery spaces filled with fine art, science and history.
Some of the events in November at the Museum are: Of Stars & Stripes: From the Collection of Dr. John Olson, Celebrating Black History Month and Mergings: A Visual Exploration: The Art of Jennifer Crescuillo.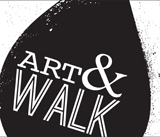 Clarksville, TN – Clarksville's First Thursday Art Walk is produced by the Downtown Clarksville Association and is a free, self-guided tour spanning a 5-block radius that combines visual art, live music, engaging events and more in the heart of Downtown Clarksville.
With 10+ venues, bars and businesses participating each month, the First Thursday Art Walk in Clarksville is the ultimate opportunity to savor and support local creative talent.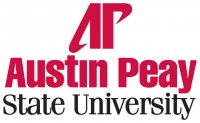 Clarksville, TN – Austin Peay State University's Wilbur N. Daniel African American Cultural Center features a variety of art donated by alumni and community organizations, but the colorful, abstract paintings of APSU alumna Miesha Arnold ('07) are particularly eye-catching.
In February, visitors to the Center will have an opportunity to dive deeper into Arnold's work, as she will be the focus of an exhibition of her watercolors, titled "Black Ink, Blue Collar."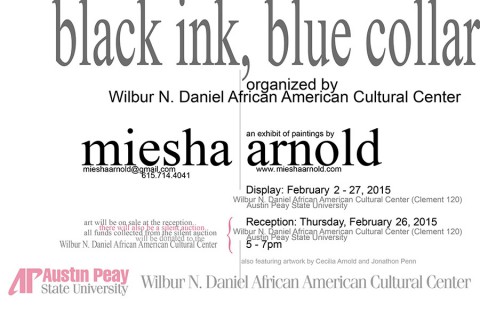 [Read more]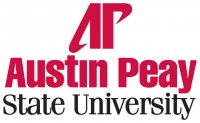 Clarksville, TN – As a part of Black History Month, the Wilbur N. Daniel African American Cultural Center is excited to welcome "The Four Black Doctors" to the Morgan University Center Ballroom on February 10th from 5:00pm-7:00pm. The event is free and open to the public.
Jeremy Campbell, PharmD, Corey Guyton, PhD, Steven D. Kniffley Jr., PsyD and Keyon Thompson, DPT, are four Black men who made a promise that changed their lives forever. While undergraduate students, they promised that they would all finish doctoral degrees before the age of 30 – a promise they fulfilled in the spring of 2013. [Read more]