Clarksville, TN – Grease is the word, or so goes the story at the Roxy Regional Theatre starting tonight! Take a trip back in time to 1959 with Danny Zucko (Christopher Herr), Sandy Dumbrowski (Ashley Harris), and the rest of the Rydell High School crew as they learn about life and love during their senior year. The Roxy production will run July 11th-August 16th.
It doesn't matter if you've seen the movie or not, you will love this production at the Roxy Regional Theatre, as this is a great show that can totally stand on its own.

Clarksville, TN – Dust off your leather jacket, pull on your bobby-socks and hand-jive the night away with Rydell High's senior class of 1959! The hit musical "Grease" returns to the Roxy Regional Theatre, July 11th – August 16th.
Christopher Herr and Ashley Harris star as head "Greaser" Danny Zuko and girl-next-door Sandy Dumbrowski, two teenagers trying to relive the high romance of their "Summer Nights" as the rest of the gang sings and dances its way through such favorites as "Greased Lightnin'," "It's Raining on Prom Night," "We Go Together" and many more!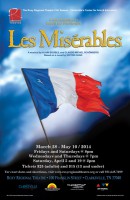 Clarksville, TN – the Roxy regional theaters currently staging their production of the Victor Hugo Classic Les Misérables. Called Epic, grand and uplifting, Les Misérables has captured the hearts of audiences around the world with its powerful affirmation of the human spirit. The Musical is running through May 10th.
Will Sevier stars as the noble Jean Valjean, who has been released after 19 years of unjust imprisonment in pre-revolutionary France, only to find nothing in store for him but mistrust and mistreatment. Breaking his parole in hopes of starting a new life, he initiates a life-long struggle for redemption during which he is relentlessly pursued by police inspector Javert (played by Donald Groves), who refuses to believe criminals can change their ways.
Grand Opening Celebration on Saturday, March 29th, to Launch Seven-Week Run

Clarksville, TN – Epic, grand and uplifting, "Les Miserables" has captured the hearts of audiences around the country, and its powerful affirmation of the human spirit has made this adaptation of the Victor Hugo classic an international smash-hit.
This spring, Boublil and Schonberg's popular masterpiece takes the stage of the Roxy Regional Theatre, March 28th – May 10th.
A grand opening celebration with the cast on Saturday, March 29th, launches the seven-week run of "Les Miserables". Following that evening's 8:00pm performance, audience members will be invited onstage to socialize with the cast over champagne and hors d'oeuvres. Tickets are $50.00 (including the show).
Clarksville, TN – The Clarksville High School Theatre will kick off its 2013-14 season on Friday, November 1st with the opening of an original play by David Wesner.
The CHS production stars Jacob Sullivan in the primary role. Jacob is supported by Nic Hadden, Lane Chisenhall, Delany Atkins, Samantha Grimes, Jordan Sherley, Shaoyun Yang, Ashley Knowles, Lauren Pierce, Nigel Nyberg, Megan Beane and Daniel Ellis.
RUN! is about a random act of violence. Though the audience never sees the violence, the effect it has on a classroom full of students is clearly seen and felt. [Read more]

Clarksville, TN – Go "under the sea" this summer with the Roxy Regional School of the Arts in Disney's "The Little Mermaid Jr.", opening Friday, May 17th, at 6:00pm.
Based on the Hans Christian Andersen story and the Disney film, "The Little Mermaid Jr." tells the story of the beautiful young mermaid Ariel (Ashley Knowles), who longs to leave her ocean home to live in the world above.
But first, she'll have to defy her father King Triton (Tristan Sartor), make a deal with the evil sea witch Ursula (Sidney McCarty), and convince Prince Eric (Truman Jepson) that she's the girl with the enchanting voice.

Clarksville, TN – "Second star to the right, and straight on 'til morning …" Let your inner child soar to new heights and fly away to Neverland with the Roxy Regional Theatre! Enchanting fun for audiences of all ages, the award-winning Peter Pan: A Musical Adventure makes its regional premiere on Friday, April 12th, at 8:00pm.
Based on J.M. Barrie's original play, with permission from Great Ormond Street Hospital for Children, Peter Pan features music and lyrics by George Stiles and Anthony Drewe (award-winning composers of Honk! and Mary Poppins) and book by Willis Hall.

Clarksville, TN – The tale of Romeo and Juliet is one which truly transcends time and place — and beginning March 8th, the Roxy Regional Theatre will prove it by setting one of William Shakespeare's most famous plays during the American Civil War.
This historical twist to the classic love story could not come at a more fitting time, as we commemorate the 150th Anniversary of the American Civil War, a time when deeply rooted hatreds often pitted neighbor against neighbor and family against family, compelling lovers to risk everything to be together.

Clarksville, TN – In two newly-added performances, young people from the Roxy Regional Theatre's School of the Arts will present their fresh take on Edgar Lee Masters' classic "Spoon River Anthology" on Saturday, January 12th, and Saturday, January 19th, at noon.
Staged by John McDonald with dance choreography by Jessica Davidson and choral work by Erin Keas, Edgar Lee Masters' collection of short free-form poems visit the inhabitants of a sleepy New England town. [Read more]

Clarksville, TN – Following the flurry of out-of-town guests and turkey dinners, unwind at the Roxy Regional Theatre with a rollicking musical favorite sure to put you in the holiday spirit. In keeping with tradition and in celebration of Charles Dickens' 200th birthday, John McDonald will once again don his top hat as Ebenezer Scrooge in "A Christmas Carol", running through December 22nd.
Under the direction of Tom Thayer, Dickens' classic tale of Christmases Past, Present and Future meets such holiday standards as "A-Caroling We Go," "Silent Night," "Christmas Is Here," "Do You Know How Christmas Trees Are Grown" and more.