Clarksville, TN – A new year is quickly approaching, bringing with it the promise of a new decade. Here's a look back at some of the milestones that took place on the Austin Peay State University (APSU) campus during the last 10 years.

Clarksville, TN – The Austin Peay State University (APSU) football team hopes to protect the Fort again following their September 28th rout of conference rival (and then No. 11-ranked) Jacksonville State and the subsequent bye week. The Govs host Southeast Missouri at 2:00pm Saturday, October 12th.

Clarksville, TN – Fall classes have begun at Austin Peay State University (APSU). But the kickoff of classes isn't the only big thing happening on campus this week.
Football season starts with when the Govs and new head coach Mark Hudspeth host North Carolina Central 7:00pm Thursday, August 29th at Fortera Stadium.

Clarksville, TN – Austin Peay State University, which turned 90 in April, experienced another big year, with new buildings and programs transforming the campus over the last 12 months.
Women's volleyball and men's football electrified the community this fall, and in August, thousands of people cheered as the afternoon sky went dark for nearly two minutes. As this 90th year comes to an end, here are some of the major stories that came out of Austin Peay in 2017.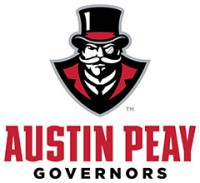 Clarksville, TN – Austin Peay State University student-athletes are no stranger to competition. Each year, the Governors compete to be the best on their team, the best in their conference and some even push to rank among the best in the nation.
Very few have ever been able to say they took on the best in the world, but a trio of Austin Peay Cheerleading student-athletes got that chance recently — and they have the gold medals to back up their claim.
APSU Sports Information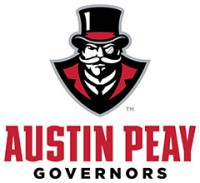 Clarksville, TN – Austin Peay State University Athletics department's Echo Power Engineering Governors Golf Classic fundraiser, presented by Hand Family Companies and the APSU Governors Club, is set for Friday, June 23rd, 2017 at the Clarksville Country Club and Swan Lake Golf Course.
The annual event serves a fundraiser to support student-athletes through scholarships, facility improvements and academic support. Teams can register for the four-player, best-ball scramble for $400.00, with hole sponsorships (which include both course) available for $500.00.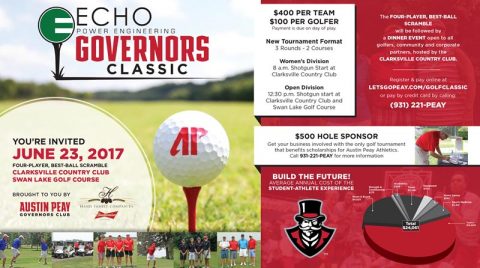 [Read more]
City Saver Coupon Book Continues to Help Clarksville Schools Raise Money and Local Families Save Money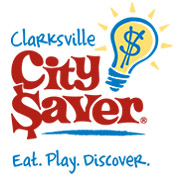 Clarksville, TN – For the seventh consecutive year, the Clarksville-Montgomery County School System and the CMC Education Foundation have partnered to sponsor the City Saver Education Funding Campaign that will run from January 13th – February 10th, 2017.
Last year's campaign raised over $200,000 for local schools and the CMC Education Foundation, with a total of $1.2 million raised over the past six years.
During this year's campaign, all Clarksville-Montgomery County elementary and middle school students will sell the new 2017 Clarksville City Saver coupon book, which contains thousands of dollars in savings at over 200 local favorite restaurants, attractions and retail stores.
[Read more]

Clarksville, TN – Last month, during Austin Peay State University's 58th Annual Tower Club Dinner Meeting, longtime APSU supporters Jeff Bibb and Frank Lott were honored with the Tennessee Board of Regents' 2016 Chancellor Award for Excellence in Philanthropy.
"For nearly two decades, Jeff Bibb and Frank Lott have quietly supported Austin Peay State University, with many in the community not realizing how vital they are to this institution," TBR Chancellor David Gregory said. "Austin Peay is a stronger institution because of their support and generosity, and their creative talents will allow this institution to attract new students and connect with successful alumni in the coming years."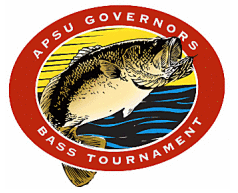 Buchanan, TN – On Saturday, May 14th, the 22nd annual Austin Peay State University Governors Bass Tournament was held on Kentucky Lake. Boats launched from Paris Landing State Park at 6:00am. There were 187 boats competing for $12,000 in prize money.
Although the forecast was for a clear, sunny day, the start of the tournament was anything but. Clouds rolled in, the wind kicked up making for a cold morning with a lot of chop on the water. As the day went on, the clouds departed and the sunny weather promised presented itself.
Concert part of ceremony to unveil newly renamed Fortera Stadium

Clarksville, TN – On Saturday, April 23rd, Austin Peay State University and Fortera Credit Union celebrate a new era in Governors Football with the unveiling of the newly renamed Fortera Stadium, capped off with a concert by Nashville recording artist Maggie Rose in the stadium lot.
Rose's performance will conclude a day's worth of activities, beginning with a noon baseball game, as the Governors take on Eastern Kentucky in Raymond C. Hand Park. At 1:00pm, Governors Softball will compete against Jacksonville State at Cheryl Holt Field.