Clarksville, TN – On Thursday, April 13th, 2017 more than 100 Austin Peay State University freshman students were inducted into the Alpha Lambda Delta (ALD) National Honor Society.
"This is the largest crowd I have seen at an induction in over a decade,"Dr. Steven Ryan, professor of languages and literature and ALD faculty advisor, said.

Nashville, TN – Megan Hart, a graduate student at Austin Peay State University, is the first recipient of the Robert M. Hatcher Memorial Scholarship.
The $1,000 scholarship is named in honor of Bob Hatcher, who served the Tennessee Wildlife Resources Agency for 38 years including serving as the Non-Game and Endangered Species Coordinator from 1987 until 2001.
Megan completed her bachelor's degree in biology in 2015 with a perfect 4.0 grade point average. She is pursuing her master's degree in biology, focusing on conservation and wildlife biology.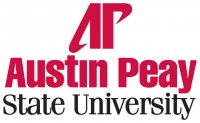 Clarksville, TN – More than 70 successful alumni will return to Austin Peay State University in February to spend time with students about to enter the work force.
The 2011 Career Networking Event will be from 9:00am-1:00pm, Wednesday, February 23rd in the Morgan University Center Ballroom. [Read more]