Downtown @ Sundown Concert Series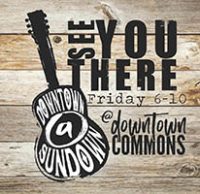 Clarksville, TN – Downtown Commons' Downtown @ Sundown Concert Series & Street Fair is this Friday, June 15th at 6:00pm. Come join us for a night of FREE music and family fun. Featuring Trailer Choir, charting the Billboard Hot Country Charts with songs like "Rockin' the Beer Gut" and "What Would You Say."
Openers include Aaron Lessard, a solo artist based in Nashville, known for having a heavy jazz influence and U.S. Marine Corps Veteran Chris Turner, a singer/ songwriter from Ninety Six, South Carolina.

Clarksville, TN – Several downtown streets will close and the transit service will be temporarily relocate on Saturday, May 19th, 2018 when Clarksville hosts its first High Roller Criterium (crit).
The Clarksville Transit System will be staging on Cooper Place and Academy Avenue behind Cumberland Bank & Trust (off of Madison Street) during the event.

Clarksville, TN – There is a feeling of campy nostalgia to the black and white images of Nashville artist Kit Kite's X Housewife series that immediately creates empathy from female onlookers.
Ironing boards, utensils, and Tupperware are just some of the objects filling Kite's large scaled photographs.
Clarksville, TN – The City of Clarksville has completed restoration of the Arlington Hotel monument on Second Street, thanks to the Montgomery County Historical Society and an anonymous donor.
The stone monument commemorates the Arlington Hotel, a three-story brick building that stood on the site from 1887 until it was razed in 1973. The City's Cumberland Place Parking Plaza garage was built on the site in 1992.

Clarksville, TN – Through July 31st, the Crouch Gallery of the Customs House Museum and Cultural Center is dripping in the vibrant hued textiles of award-winning artist Carol LeBaron.
Patterns of color extending up to fourteen feet are suspended from rods of repurposed wood, the effect of which is like a forest of violet, lemon, Indian red, sap green and cerulean blue.

Clarksville, TN – Artist Larry Richardson will be at the Customs House Museum and Cultural Center on Thursday, June 23rd at 12:15pm as part of the museum's monthly Art & Lunch program.
Larry will be taking guests on a guided tour of Cumberland River paintings that are now on display in the Kimbrough Gallery.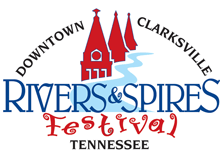 Clarksville, TN – The weather was absolutely perfect Friday, April 15th for the Rivers and Spires Festival. It was warm, but not too warm with a slight wind, clear sky, perfect. Put that with plenty of food, great vendors, activities and some amazing entertainers and you had one heck of a good time going on in Downtown Clarksville.
Rivers and Spires truly has something for everyone, little, small, young and old alike. There were plenty of things to do like the laser tag area, face painting, the sports zone and the family fun zone.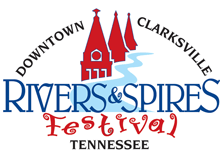 Clarksville, TN – CDE Lightband continues to offer the ultimate gaming experience at Rivers and Spires! Adults and children of all ages have the opportunity to play interactive multi-player games for free!
Enjoy over 50 games for all levels of gamer at CDE Lightband's exclusive gigabit speed. Fiber Fast Gaming is located in the underground parking garage on Franklin Street between Second and Third Streets.

Clarksville, TN – Through the end of November, guests of the Customs House Museum can enjoy the forests of Elizabeth Sanford within the Planters Bank Peg Harvill Gallery. Bright colored leaves and creatures roam the space in layers of watercolors.
Many of the pieces in the show are reminiscent of pop-up books and shadow boxes.

Clarksville, TN – The Customs House Museum currently is featuring the dynamic landscapes of award-winning artist Frank Baggett in its Crouch Gallery exhibition Surroundings: The Art of Frank Baggett. Bold palettes of earthy colors move across the canvases in sharp strokes and golden highlights of reflected sun.
The viewer is instantly drawn into the riverbeds and forests of Frank's world with the sense of having crossed these familiar paths before on a lazy summer day.