Clarksville, TN – On Saturday, at 2:00pm, the Roxy Regional Theatre is presenting the last showing of Schoolhouse Rock Live! A live action musical that brings the entertaining and educational cartoons from Saturday Morning TV that we fell in love with as children back to life so that our own children can fall in love with them as well.
Whenever you can touch someone's childhood memories in theatrical production, you are sure to have a hit on your hands; and this is the case with this wonderful Roxy production. Kids and their parents will fall in love with the fast paced musical numbers in this show.

Clarksville, TN – Class is in session this spring at the Roxy Regional Theatre! For three Saturday afternoons beginning April 14th, the Roxy instructs a whole new generation to "Unpack Your Adjectives," "Do the Circulation" and meet up at "Conjunction Junction" with the pop-culture phenomenon "Schoolhouse Rock Live!"
The energetic cast of characters are portrayed by Melanie Beck, Josh Bernaski, Ryan Bowie, Hannah Church, Matt DuMont, Regan Featherstone, Ashley Laverty, Rob Rodems, Cassie Thompson and Kendall Anne Thompson.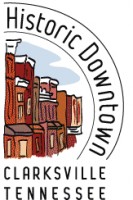 Clarksville, TN – You are invited to join the Downtown Clarksville Association invites you join us on May 3rd from 5:00pm to 8:00pm to celebrate local artists.
Participating merchants include: Hodgepodge, The Framemaker, Fleur de Lis, Rogate's Boutique, Ingredients and more!
Visit with artists, Anna Heron, Rhonda Taylor, Melanie Davis, Jo Violette and others. [Read more]

Clarksville, TN – With the musical hit Beehive: The '60s Musical Sensation bringing down the house nightly through October 15th, the Roxy Regional Theatre, Clarksville, has opened its 29th season of classics, musicals, regional premieres and world premieres.
For two nights only, October 21st and 22nd, New York actor Ashton Crosby brings his tour of Mark Twain: Adventures in American Humor back to the Roxy stage. Then on October 28th and 29th, the infamous Mercury Theatre 1938 radio broadcast will be recreated live on stage with The War of the Worlds.