"Planters Bank Presents…" Film Series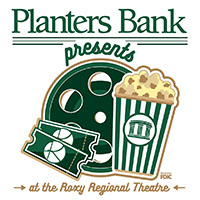 Clarksville, TN – The "Planters Bank Presents…" film series to show "BEETLEJUICE" this Sunday, October 15th, 2017 at the Roxy Regional Theatre at 2:00pm.
After Barbara (Geena Davis) and Adam Maitland (Alec Baldwin) die in a car accident, they find themselves stuck haunting their country residence, unable to leave the house. When the unbearable Deetzes (Catherine O'Hara, Jeffrey Jones) and teen daughter Lydia (Winona Ryder) buy the home, the Maitlands attempt to scare them away without success.