Clarksville, TN – On Monday, March 27th, 2017 acoustic folk artists Shelby Bottom Duo, based in Nashville, will bring their multimedia musical history to the campus of Austin Peay State University.
The show, which is free and open to the public, will take place in the Morgan University Center, rooms 303 and 305 from 5:00pm-7:00pm.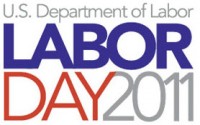 Washington, D.C. – Labor Day, the first Monday in September, is a creation of the labor movement and is dedicated to the social and economic achievements of American workers. It constitutes a yearly national tribute to the contributions workers have made to the strength, prosperity, and well-being of our country.
This Labor Day, take a minute to honor America's hardworking men and women by showing who's special in your life. Is it the nurse or teacher who made a difference? Or maybe a relative who labored as a steelworker or ironworker? Or, as we approach the 10th anniversary of 9/11, is it one of the many first responders who rushed into burning buildings to save lives?