Montgomery County Parks and Recreation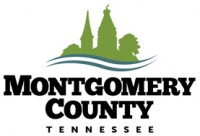 Montgomery County, TN – Tennessee Governor Bill Haslam and the Tennessee Department of Environment and Conservation (TDEC) announced the list of Tennessee Communities this week that would receive a series of grants totaling more than $15 million to help fund parks and recreation projects in Tennessee communities across the state.
"Easy access to parks, trails, walking paths and other recreational facilities can make a good community a great community," said Haslam. "These grants provide the resources needed to help make Tennessee an even more desirable place to live, work and raise a family."
Montgomery County Government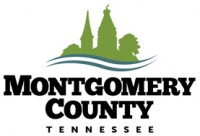 Montgomery County, TN – This week Montgomery County added Gold Star Family parking signs at Civitan Park, Richellen Park, Rotary Park, War Memorial Park and Woodlawn Park as well as Veterans Plaza for Gold Star Family Members.
The idea for the signage came from a local citizen who shared it with Montgomery County Mayor Jim Durrett.
Clarksville, TN – Clarksville Academy recently held commencement exercises in the school's activity center for 56 graduating seniors, members of CA's Class of 2018.
After the opening procession, and welcoming remarks, Lakeisha Allyah Phillips, Senior Class President, delivered the invocation, followed by Salutatorian, Hannah Elizabeth Flowers' address to her fellow graduates.
Clarksville-Montgomery County annual Memorial Day Ceremony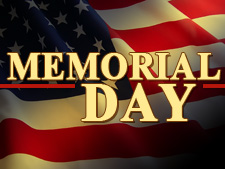 Clarksville, TN – Clarksville-Montgomery County hosted its annual Memorial Day Ceremony at William O. Beach Civic Hall, Monday, with Guest Speaker Major (Ret,) Bill Summers, US Air Force.
Hundreds of people filled the room to honor America's fallen soldiers, both known and unknown, as local leaders took turns at the podium sharing their thoughts on the meaning of the heroic sacrifice so many have made for this country, and the impact that sacrifice has had on us all.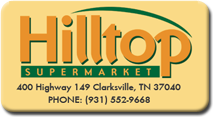 Clarksville, TN – It might have been raining, but spirits were high at Hilltop Supermarket's 3rd annual Dwayne Byard Memorial BBQ Cook Off.
The cook off was held in honor of Dwayne Byard who past away three years ago. Proceeds from the event went towards a scholarship fund for Dwayne's grandchildren.
Seventeen teams competed for trophies and cash prizes. There was BBQ, ribs and more for sale.
Great American Clean-up 2018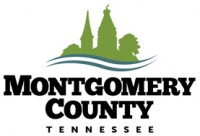 Montgomery County, TN – On Saturday, April 28th, 2018 more than 400 people came out to the annual Clarksville-Montgomery County Great American Clean-up event. Participants cleaned up litter in various areas of the community from the industrial park to downtown.
The event is promoted through the Clarksville Area Chamber of Commerce and organized through Bi-County Solid Waste Management.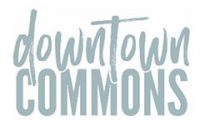 Clarksville, TN – A lot has been going on at Downtown Commons, which opened just last week. Saturday afternoon, another of the park's much anticipated components was unveiled, the Imagination Playground.
Montgomery County Mayor Jim Durrett was on hand. He took a few moments to welcome a crowd of more than 100 people to Clarksville's newest park.
The CarMax Foundation and KaBOOM! Kick Off "Weeks of Play" to Celebrate Military Families.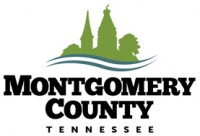 Montgomery County, TN – Montgomery County will host an event for military families to unveil its new Imagination Playground™ on April 21st, 2018. The community will come together to use the new creative play product at the Downtown Commons.
This celebration is one of several events happening across the country during The CarMax Foundation's "Weeks of Play," in partnership with KaBOOM!, to make play more accessible to kids of veterans and military families. Events are taking place during this time frame because April is the month of the military child.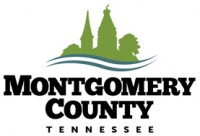 Montgomery County, TN – Clarksville-Montgomery County School System and Montgomery County Government have teamed up this year to raise awareness and funding for the United Way of the Greater Clarksville Region.
On Saturday, February 17th, 2018 at 7:00pm, Austin Peay State University will host Montgomery County and CMCSS United for United Way Night during the APSU Men's Basketball game vs. Jacksonville State.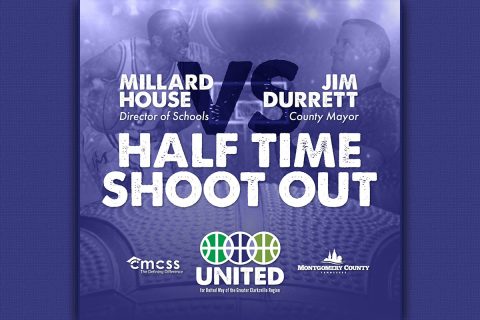 [Read more]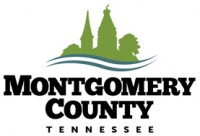 Montgomery County, TN – Local historian Carolyn Ferrell and Montgomery County IT ArcGIS Specialist Bryce Hester teamed up to bring three historic urban trails to life in Clarksville.
An urban trail is not a built path through natural scenery but a virtual trail that uses existing sidewalks and crosswalks to lead walkers through a route of interesting urban sights.
The trails Ferrell laid out entices walkers with open-air history lessons packed with interesting historical tidbits about Clarksville's past.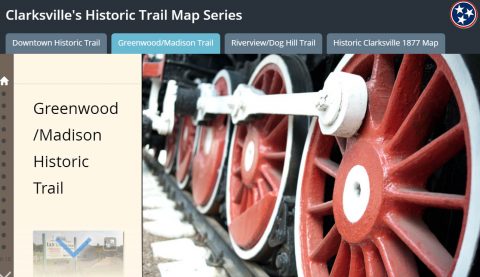 [Read more]