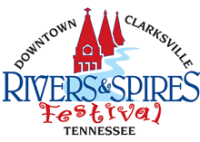 Clarksville, TN – Clarksville's Rivers and Spires Festival begins tonight, April 16th with musical entertainment for everyone. The free festival will have musicians of all genres. Tonight's hours are from 5:00pm-10:00pm.
Driven, a local pop group, will kick things off at 5:00pm on the Strawberry Alley Stage. Driven boasts smooth harmony with high energy show.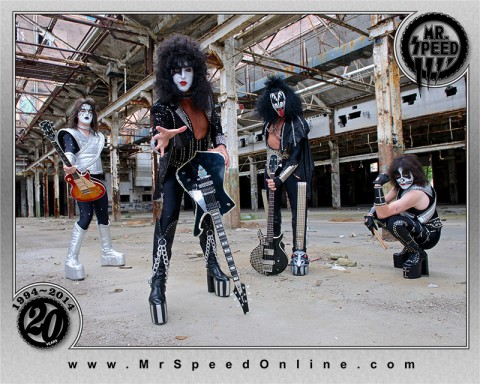 [Read more]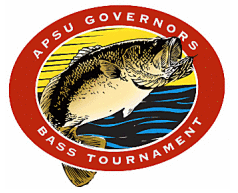 Clarksville, TN – As final remnants of last week's snow and ice storm quickly melt away and temperatures rise into the 60s, it is a reminder the 21st annual Austin Peay State University Governors Bass Tournament is just around the corner.
This year's edition will be held Saturday, May 16th, at Kentucky Lake, with registration and boat launching from Paris Landing, Tennessee, State Park. Last season's tourney drew 227 boats.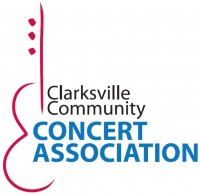 Clarksville, TN – The celebrated tenor Lawrence Brownlee will be in concert at the George and Sharon Mabry Concert Hall on the campus of Austin Peay State University in the Music/Mass Communication Building, Eighth and Marion Streets, Clarksville, Tennessee this Tuesday, March 3rd, 2015 at 7:30pm.
It is phenomenal to have Brownlee in Clarksville between engagements in Europe, the Metropolitan Opera and Carnegie Hall. He is the most in-demand American tenor in the world singing the bel canto repertoire. Brownlee sings with "elegance and grace" and has a voice that has been described as astonishingly beautiful and powerful.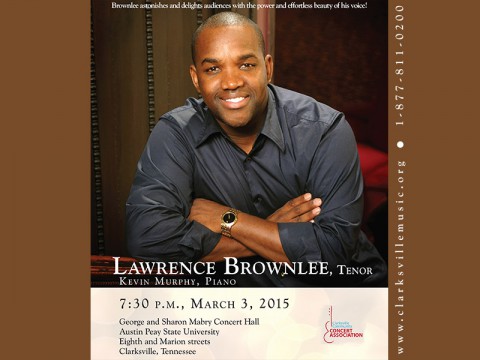 [Read more]

Clarksville TN – Local singer/songwriter Lydia Walker has become a household name in recent years. She has performed at numerous festivals, events, coffee shops, churches, and colleges in our region of Middle Tennessee and Southern KY.
Her music can be described as Contemporary Folk, accompanied by her acoustic guitar and occasionally a ukulele. She has taken the stage hundreds of times, sharing her songs with as many people as she can.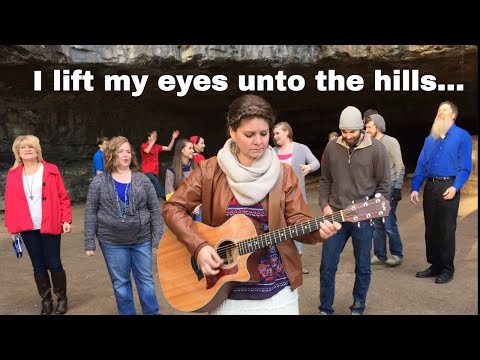 [Read more]

Clarksville, TN – On Saturday, February 7th, Clarksville Parks and Recreation along with Planters Bank held the 3rd annual Chocolate Affair at the Wilma Rudolph Event Center located at 1190 Cumberland Drive.
Those in attendance had the opportunity to sample products from local vendors, restaurants and groceries. It was a festive event with everyone all smiles as they indulged in chocolate delights.

Clarksville, TN – It was my first visit to Chocolate Affair sponsored by Planters Bank and the Clarksville Parks and Recreation Department. At a cost of a mere $15.00, it was the bargain of the year. Seventeen vendors gave every attendee at least one piece of superb chocolate—and what a variety of treats!
Magician Russ Nowack startled chocolate eaters with appearing and disappearing coins and other mind-boggling feats. D J Folley of Big Fish Entertainment kept the music lively as kids in the audience showed off their moves.

Clarksville, TN – Move over, Tammy, Dolly and Loretta … there's a new trio in town! Classic country gets a musical makeover in Ted Swindley's "Honky Tonk Angels" at the Roxy Regional Theatre, beginning February 13th at 8:00pm.
Audiences who could not get enough of Always…Patsy Cline will find the perfect match in creator Ted Swindley's follow-up, which combines over 30 classic country tunes (including "I'll Fly Away," "Stand by Your Man," "Harper Valley PTA," "9 to 5," "Coal Miner's Daughter," "Ode to Billy Jo," "These Boots Are Made for Walking," "Rocky Top" and "I Will Always Love You") with a hilarious story about three gutsy gals who are determined to better their lives and follow their dreams to Nashville.

Clarksville, TN – Start out the new year with a delightful romp through the world of a coterie of animals which have captivated young and old alike for over a century. The tales of beloved author and illustrator Beatrix Potter take center stage at the Roxy Regional Theatre in "Flopsy, Mopsy & Cottontail" for four consecutive Saturday afternoons, January 17th – February 7th.
Join Peter Rabbit, Flopsy, Mopsy and Cottontail, when they meet Mr. McGregor, Jemima Puddle-Duck, Samuel Whiskers, Mrs. Tiggy-Winkle and Mittens, Moppet and Tom Kitten, all in this wonderful, colorful revival of the Beatrix Potter classics.
Clarksville, TN – On New Year's Eve, the Clarksville Transit System will again offer safe rides home.
"Operation Safe Ride" is a free service open to anyone who is too impaired to drive home. People who live within the Clarksville city limits can call 931.553.2429 for a ride home between the hours of 11:00pm and 4:00am.

Clarksville, TN – The City of Clarksville held their 55th Annual Lighted Christmas Parade on Saturday, December 6th, 2014. The theme for this year was "A Storybook Christmas".
The parade is hosted by the City of Clarksville and Montgomery County Government, and made possible by the support of Agero. And the other sponsors.