Clarksville, TN – The Austin Peay State University Center of Excellence for the Creative Arts (CECA, or "seek-ah") is pleased to announce that Andrew Scott Ross, of Johnson City, is the 2017-18 recipient of the Tennessee Artist Fellowship.
The CECA Tennessee Artist Fellowship was created to celebrate contemporary art and to support the continued creative work of exceptional Tennessee artists.

Montgomery County, TN – Clarksville Montgomery County School System (CMCSS) has selected Loralee F. BeCraft to be the next principal of Montgomery Central Elementary School beginning the 2017-18 school year.
She replaces Nancy Grant who is retiring after 32 years as principal.

Clarksville, TN – So often we admire paintings and artworks of artists who are not accessible for questions or comments. Not so was the case Thursday night, August 11th. Customs House Museum hosted a gala affair which introduced an exhibit entitled "Women Painting Women 2016".
Featured artists' works included those of Denise Stewart Sanabria who created life size cutouts of people whose only identity were numbers, but whose personalities were evident in the charcoal and pastel pencil on plywood models. They reminded one of oversized paper dolls, just ready to come to life.

Clarksville, TN – Janet Ayers, a nationally recognized business leader and president of the philanthropic Ayers Foundation, will deliver the keynote address at Austin Peay State University's 87th Spring Commencement on May 6th.
The Ayers Foundation was created in 1999 to sustain and/or significantly improve the quality of life in Tennessee. The organization accomplishes this mission through financial support for college scholarships, medical services for children, research into pre-cancer detection and diagnosis, continuing education for teachers, mental health research and other initiatives.

Montgomery County, TN – A high school principal has resigned to take a position in North Carolina and a number of administrative appointments have been made in the Clarksville-Montgomery County School System for the 2013-14 school year.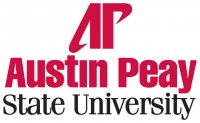 Clarksville, TN – For the artist Wes Sherman, an old painting by Vincent van Gogh or George Inness isn't simply a static work of art. Each piece is alive in the present, with modern day viewers interpreting its images to fit into the world he or she knows.
"I believe that we have always borrowed from the past to redefine or rediscover our existence," he said.