Actor, soldier, humanitarian honored in hometown
Clarksville, TN – On Wednesday, May 3rd, 2017, a statue of actor Frank "Sgt. Carter" Sutton, who was born and raised in Clarksville, was dedicated on Franklin Street in Downtown Clarksville.
A crowd of more than 150 people — including a large group of third-grade students from Clarksville Academy and a busload of Coldwell Banker Realtors — gathered to watch Clarksville Mayor Kim McMillan, statue project leader Mark Holleman, and sculptor Scott Wise pull the shroud from the bronze image.
Clarksville, TN – A statue of actor Frank "Sergeant Carter" Sutton, who was born and raised in Clarksville, will be dedicated at 1:30pm Saturday on Franklin Street in Downtown Clarksville.
Mark Holleman, civic leader and broker/owner of Coldwell Banker Conroy, Marable & Holleman working with the City of Clarksville, led the drive to place the statue — created by local sculptor Scott Wise — near the Roxy Theatre in Sutton's hometown.

Clarksville, TN – Funny, outrageous, emotionally affecting and occasionally angry … Eve Ensler's wildly popular series of monologues about women and performed by women is back for the fifteenth year with the Roxy Regional Theatre's presentation of "The Vagina Monologues", January 13th – January 28th.
Returning favorites Emily Rourke (most recently seen as Molly in Harry Connick, Jr.'s The Happy Elf) and Leigh Martha Klinger (whom audiences may remember as Magenta in The Rocky Horror Show and, most recently, as Gilda in The Happy Elf) will take the stage of the Roxy's theotherspace in readings of these monologues based on interviews Eve Ensler conducted with 200 women about their views on sex, relationships, and violence against women.
Clarksville, TN – It is a solemn occasion when a nation gathers together to honor its soldiers, those who lived to come home, but even more importantly those who did not. No remains were returned during the previous year, that leaves 30 remaining missing POW/MIA's from the State of Tennessee. Each one was honored in a ceremony held in front of the William O. Beach Civic Center at Veterans Plaza in Clarksville Tennessee on Sunday evening.
The Vietnam Veterans of America, Chapter 396 holds this Memorial Day Vigil each year to remember the men and women who were left behind in Vietnam when American forces left that country in 1975.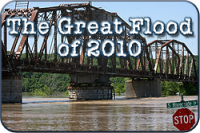 The cleanup from the Great Flood of 2010 continues. While many media outlets have ended their flood coverage, Discover Clarksville will continue to keep you up to date on the status of the areas where businesses were affected by the flood. [Read more]