Nashville, TN – The Tennessee Department of Environment and Conservation (TDEC) announced the first group of participants in Get Food Smart TN – a statewide initiative aimed at reducing food waste.
The inaugural class, which includes Austin Peay State University, was recognized on April 20th, 2018 at an event hosted by former TDEC Commissioner Bob Martineau and TDEC Assistant Commissioner Dr. Kendra Abkowitz Brooks at the William R. Snodgrass Tennessee Tower in Nashville.
Five Additional Recreational Trails Program Grants Announced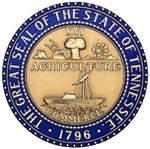 Nashville, TN – Tennessee Governor Bill Haslam and Environment and Conservation Commissioner Bob Martineau today awarded an additional $547,000 in grants for recreational trail projects across Tennessee. $120,000 was awarded to the City of Clarksville to connect Mary's Oak Trail Head and the 101st Pedestrian Bridge through Heritage Park.
"These grants help local governments and organizations improve amenities such as trails, greenways and recreational facilities that contribute so much to a better community and quality of life," Haslam said. "The grants will help make Tennessee's incredible natural beauty and outdoors more accessible to Tennesseans." [Read more]