Clarksville, TN – The Customs House Museum & Cultural Center is pleased to announce that it has been awarded the Arts Engagement in American Communities grant from the National Endowment for the Arts (NEA).
The invitation-only grant in the amount of $10,000 aims to help increase understanding and skills in the arts for all ages.

Clarksville, TN – On Tuesday, the Customs House Museum cut the ribbon on its newest permanent exhibit, "Becoming Clarksville: Honoring Legacies of Leadership."
Through the prism of leadership, the exhibit explores the history of Clarksville and Montgomery County, focusing on the stories of individuals who helped shape the city, featuring unique interactive and video elements. Becoming Clarksville also serves as a legacy for the Clarksville Jaycees, remembering its history and contributions to the people of Clarksville.

Clarksville, TN – The Customs House Museum is proud to announce Planters Bank as the Title Sponsor of The Wonderful Wizard of Oz, a travelling exhibit coming to the Crouch Gallery of the museum in April 2014.
Planters Bank's generous gift will help fund this highly acclaimed, award-winning exhibit from the Great Explorations Children's Museum in St. Petersburg, Florida.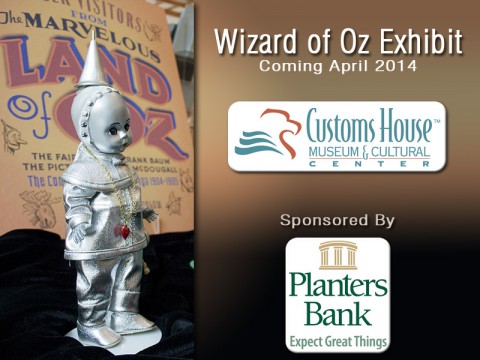 [Read more]

Clarksville, TN – "Crossroads of Change, Clarksville, Tennessee 1861-1865," a locally-produced video providing a perspective of the impact of the Civil War upon Clarksville and its inhabitants during the years 1861 to 1865, was honored with a 2012 Certificate of Commendation from the Tennessee Association of Museums (TAM) at its annual convention held recently in Memphis Tennessee.

Clarksville, TN – If you've been "Flying High" over the years, then it's time for "Laying Low" to support the Custom's House Museum and Cultural Center. The Museum's first ever "Laying Low" fundraiser is coming November 5th at 3:30pm, at the home of Nancy and Garnett Ladd, 2100 Madison Street.
This "festival style" event will feature a complete barbeque dinner with all the trimmings, adult beverages, sweet tea, outdoor games, a cornhole tournament, capped off with a bonfire and s'mores. The highlight of the night will be country music headliner, Frankie Ballard. [Read more]