Riverfest provides something for Everyone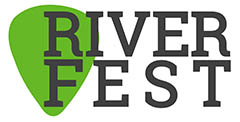 Clarksville, TN – By all accounts, this year's Riverfest was a big success. The weather was perfect, attendance was strong, and the entertainment was top-notch.
Three days of activities began Thursday evening with the annual Riverfest Art Show at Wilma Rudolph Event Center. Kara Zahn and her team did a great job this year, bringing in a full house to view dozens of entries in multiple categories and age divisions.
"The event went really well tonight," Zahn said. "Looking at tonight's crowd, I would say we had close to 150 people here for the awards ceremony. We had a total of 102 pieces of art entered into the show, of which, 97 were chosen. Of those selected, 57 were in the youth division. I've been doing this for four years, and that's the most submissions I've seen in the youth division. So, we're very excited for that turnout."
Zahn thanked all the participants, as well as North Meets South for the refreshments, and Red River Breeze the evening's entertainment.
Friday afternoon, the festival kicked into high gear. Events moved from Liberty Park to McGregor park where bands performed on two stages, and the Family Zone was filled with informational and educational booths, games, crafts, and lots of activities for all ages.
The Art Link tent hosted a community art project. Clarksville Zombie Hunters facilitated in the destruction of countless zombies for the betterment of the community, and hundreds of kids enjoyed the inflatables area.
Friday's music line-up featured some local favorites, with Music for Mercy, and Fever on the Google stage, and Justin Mobley, and American Floyd on the Miller Lite stage. Just a few of the many musicians who gave great performances at this year's festival.
Saturday's activities began earlier in the day. First up was the annual and ever-popular Cardboard Boat Regatta. Followed by local and regional music acts that were on the stages by noon. Local dance groups showed their moves to an enthusiastic crowd gathered at the Google stage, and the Family Zone was packed throughout the afternoon.
The area outside the main pavilion was once again filled with food trucks and tents offering a great selection of sweet, and savory treats, and booths of all types lined the river from one end of McGregor Park to the other.
The Google stage featured Hayley Payne, followed by Austin James, Rufus Dawkins, and Jerda Musick. The Miller Lite stage was rockin' all day as well. Nicole Coley got things started. She was followed by the 101st Airborne Division Band, Emmalee, and more. Cody Parks and the Dirty South performed for a growing hillside crowd, followed by Maggie, and then this year's headliner, Montgomery Gentry.
Clarksville Mayor Joe Pitts took a moment to thank all who made this year's festival possible, then introduced Kentucky-native Eddie Montgomery who brought the audience to their feet and kept them there 'til the end of his band's high-energy show.