"Planters Bank Presents…" Film Series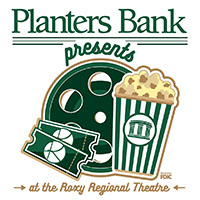 Clarksville, TN – The "Planters Bank Presents…" film series to show "Hocus Pocus" this Sunday, October 29th, 2017 at the Roxy Regional Theatre [1] at 2:00pm.
After three centuries, a trio of witches (played by Bette Midler, Sarah Jessica Parker and Kathy Najimy) are resurrected in Salem, Massachusetts, on Halloween night — and it is up to two teenagers, a young girl and an immortal cat to put an end to their reign of terror once and for all.
Admission to each film in the "Planters Bank Presents…" series is $5.00 (cash or check only). Tickets are on sale now at the Roxy Regional Theatre box office. Any remaining tickets will be available at the door one hour prior to showtime.
Normal box office hours are 9:00am-2:00pm, Monday through Friday.
At the concession stand, enjoy a bag of popcorn and a bottled water for $5.00 (sold separately for $4.00 and $2.00, respectively) and assorted candy for $2.00.
This film series at the Roxy Regional Theatre is made possible by the generous support of Planters Bank and the Clarksville-Montgomery County Arts & Heritage Development Council.
The Roxy Regional Theatre is located at 100 Franklin Street in Clarksville, TN.