Clarksville Transit System offers Free Rides Saturdays in June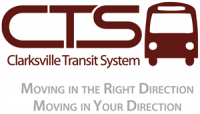 Clarksville, TN – To celebrate its 29th anniversary, the Clarksville Transit System is offering free rides every Saturday in June (June 4th, 11th, 18th and 25th).
"Many of our passengers ride CTS buses every day and we appreciate them so much," said Transportation Director Arthur Bing. "We want to thank them for supporting us and these free rides are a great way to do that. We also want to introduce CTS service to people who may not have had an opportunity to ride our buses before. We think they will be pleased and proud of our service."
"We have read so much about public transportation lately and I appreciate the CTS team for making it so easy to people to give the CTS service a try," said Clarksville Mayor McMillan. "I can assure you that the CTS personnel are extremely professional and you will have a safe, stress free ride, all while saving money. I encourage everyone to take the bus at least one Saturday this month and discover how easy it is to get where you're going using CTS."
For information about specific routes, please visit www.clarksvilletransit.org or call the Clarksville Transit Center at 931.553.2429.