Austin Peay State University's Phi Alpha Theta wins seventh Best Chapter Award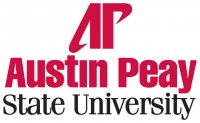 Clarksville, TN – On the Austin Peay State University campus last week, students and faculty finally stopped avoiding Dr. Minoa Uffelman, associate professor of history.
For the last six years, the University's Phi Alpha Theta (PAT) history honor society, which Uffelman advises, has been recognized each fall with the national Best Chapter Award, and when September arrived with no word from the national organization, her colleagues didn't know what to say to her.
Then, on Friday, September 18th, the APSU Department of History and Philosophy's administrative assistant sent Uffelman a text message.
"There is something in your mailbox," the message read.
The APSU professor hurried to campus, where she found a letter congratulating the organization for winning its seventh Best Chapter Award. The club was named best chapter in the nation for the organization's Division IV, which consists of schools with between 10,001-15,000 students.
"This has been the longest we've ever had to wait to find out," Uffelman said.
And she wasn't the only one feeling a bit nervous these last few weeks. Student members from last year worried they might have caused the streak to come to an end.
"You can't not win after six years," Jen Kaiser, incoming PAT president, said. "It was nerve wracking."
Kaiser, a graduate student in the military history program, joined the nationally recognized organization when she was a sophomore pursuing a B.A. in history.
"I wasn't as involved as I should have been, and (the PAT) put me through conferences and publications, and they're a really big help for anything like that," she said. As a PAT member, Kaiser has presented her research at two regional conferences and at a national conference in New Mexico.
Her friend Larissa Dougherty, a fellow graduate student and PAT communications officer, didn't join the organization until her senior year. She has since presented at conferences and met some of the top names—or "academic rock stars," as her classmate Kaiser calls them—in her field. When she graduates from APSU, she plans to enroll in another graduate program in Germany.
"I want to put the military aspect into museum work, at battlefields, fortresses and concentration camps," she said.
Graduate student Alex Poppendorf was, perhaps, the most eager to win the Best Chapter Award because she served as the PAT president last year. Like her classmates, shejoined the organization to boost her resume, but she quickly found something more.
"It's not a social organization, necessarily, but it creates a community," she said.
In addition to bringing APSU a little national recognition, the organization prepares students like Poppendorf, Dougherty and Kaiser to be successful once they graduate. In the last seven years, PAT alumni have gone on to earn master's and doctoral degrees and work as historians and teachers around the world.
"PAT members are working at state and national parks, some are working at libraries and in archives," Uffelman said. "Others are in law school and several are in the military. Alumni are social workers, councilors and working in business.
"In my ten years as advisor I have been astounded by the talent of the students, how hard they work and how creative they are. It has been my honor to guide them in their academic careers."