APSU student Lance Batson and GIS Center develop inventory app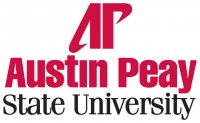 Clarksville, TN – The larger a business or government agency gets, the more equipment it acquires. Keeping track of all those computers and iPads and automobiles can be a nightmare, especially if files are misplaced or if someone's handwriting is too messy.
Austin Peay State University student Lance Batson and the school's Geographic Information Systems office are hoping to eliminate these problems by allowing agency's to go paperless with a new digital asset management system.
"Most places are doing inventory via paper and pencil," Mike Wilson, GIS director, said. "What Lance has done is build a system that is paperless. It's more efficient, and there's more accountability. You can now track who has what equipment."
Local agencies and businesses have expressed interest in the project because the APSU GIS Center has successfully developed smart phone apps for the University, Clarksville Academy and local first responders with its Disaster Mitigation and Recovery Kit (DMARK) mobile app.
The DMARK system is receiving national recognition for the way it allows first responders to immediately document damage in emergency and disaster situations. Most of these projects are student-led, and Wilson assigned the development of the asset management system to Batson.
The APSU senior in computer science created an easy-to-use system with a web interface and mobile application that allows officials to quickly search for equipment and note instantaneously its condition and if it has been moved to another department. Smart phone users can even scan bar codes and QR codes on the equipment to update its status.
"I learned a considerable amount on this project, and gained some real world experience," Batson said. "I learn a lot in class, but having a real world situation is helpful. This is more intense, dealing with real people and real problems."
Wilson said they are testing the system to refine it and make it more applicable to their needs. But, he sees Batson's project has having potential applications for other government entities and businesses.
"There's a whole bunch of different communities around us that could use a lightweight asset management system like this," Wilson said.
For more information on this project, contact the APSU GIS Center at 931.221.7500 or .