Stompfest For Christ to be held Saturday, November 10th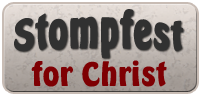 Clarksville, TN – On Saturday November 10th, Step Teams, Praise Dancers and Mime Groups will come together at the 11th annual Stompfest For Christ and raise the rafters at the Austin Peay State University Clement Auditorium.
This is the twelfth year for this ministry and it has become one of the most popular and anticipated gospel events in Clarksville, Tennessee. This years event will be hosted by D.J. Pryor, an upcoming comedian that is gaining rapid popularity locally and abroad.
Special Music will be provided by a new and exciting local group called "Christ Driven". This group consists of very talented singers and gifted musicians. Also blessing the stage will be gospel recording artist Dionne Jermeia. Dionne will sing songs from her latest project entitled "All That I Am".
Several churches will be represented at this even to include: Walnut Grove Missionary Baptist Church, Good Hope Missionary Baptist Church, Faith Mission, Goodness and Mercy Outreach, Westgate Christian Center, Remnant of Faith Church, Greater Missionary Baptist Church, Christ The Healer, Ministry of Reconciliation Church, Deliverance Outreach Temple and St. Paul Missionary Baptist Church.
Groups Ministering are: Christ Choros, Good Hope Anointed Praisers, Unified Faith, Women of Virtue, Chosen Vessels, Uninhibited Praise, Unity One, Crunk for Christ, Expressions Revealed, GMBC Praise Dancers, Little Mexicon Latin Folklore Dance Group and MRC Crunk Crew.
Doors will open at 5:30pm. The Event will begin promptly at 6:00pm. Admission is only $5.00. This is an event that the entire family will enjoy.
If you would like advanced tickets, or more information, please call Remnant of Faith Church at 931.542.6849.