Clarksville, TN – Clarksville Academy students will present two free public viewings of a new play about the history of Clarksville. "The Montgomery County Chronicles: A Tribute to History, Community, and Leadership" is a new stage play, created by Shana Thornton, local author and publisher, that is scheduled to debut at The Roxy Regional Theatre for two performances.

Clarksville, TN – Clarksville unveiled its 21st public art piece this month. Twelve of the pieces – at least – are in a proximity that's easily walkable within the city's downtown core.
Murals, sculptures, fountains, and flames are among the art pieces you'll see showcased along city streets, urban trails, buildings and throughout the campus of Austin Peay State University, which is adjacent to downtown. Many of the works were designed or created by Clarksville artists.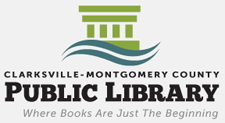 Clarksville, TN – February is African-American History Month, and the Clarksville-Montgomery County Public Library is celebrating in a variety of ways! There will be special programs all month, intended to educate participants on African-American History. All of the library's events are completely free of charge.
Have you ever wondered about your ancestry but aren't sure where to begin your research? The Beginner Genealogy Class this weekend will focus specifically on studying African-American genealogy. All experience levels are welcome to attend on Saturday, February 10th from 10:00-11:00 a.m. The class will be held in the computer lab on the second floor.

Clarksville, TN – The Customs House Museum and Cultural Center welcomes illustrator Frank Morrison on Saturday, July 8th, 2017 on its monthly Second Saturday Free Admission day. The museum is open to the public with free admission from 10:00am – 5:00pm.
Attendees will have three opportunities to hear Atlanta artist and illustrator Frank Morrison promote appreciation of illustration as an art form, reading as an enjoyable learning experience, how children and adults benefit from viewing art, as well as talking about his road to becoming a professional artist. Morrison will present in the Turner Auditorium at 10:30am, 1:30pm, and 3:30pm.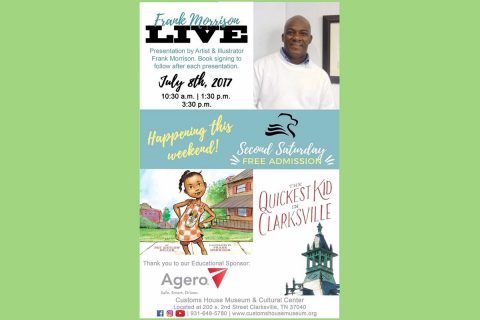 [Read more]

Clarksville, TN – The Customs House Museum and Cultural Center is located in historic downtown Clarksville, Tennessee. Come explore an entire city block featuring large gallery spaces filled with fine art, science and history.
Some of the events in June at the Museum are: Eric Buechel: The Familiar, This Is My Story, Art of the Staff, Flying High, Flag Day, and Tales & Rails.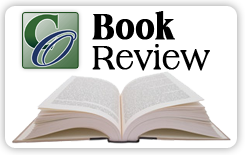 Clarksville, TN – Wilma Rudolph, Clarksville's runner extraordinaire, is the inspiration for Pat Zietlow Miller's The Quickest Kid in Clarksville, a children's book beautifully illustrated by Frank Morrison. Published in 2016 by Chronicle Books in San Francisco, it is a Junior Library Book selection.
Alta, a poor African American girl, dreams of running with Wilma Rudolph's three gold medals around her own neck. Her shoes are full of holes that sometimes trip her as she runs, but she remembers that Rudolph was one of 22 children and had polio as a child.

Clarksville, TN – The Go Commando Half Marathon, 10K, 5K & Fun Run, powered by CDE Lightband, is back and better than ever.
For those who are no stranger to going commando in Clarksville, Tennessee, you know that this beautiful, around-downtown course brings rewards to all those who dare to take on the challenge.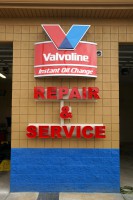 Clarksville, TN – Clarksville based Convenient Car Care Inc. has announced the opening of the Valvoline Complete Car Care Center, at 2516 Wilma Rudolph Boulevard. In an effort to provide a more convenient location for all of their automotive products and services, Candace Ursery, President of Convenient Car Care Inc. said the opening of their new facility would better serve their customers, and provide more products and services at one location.
"We have partnered with Valvoline to launch this new automotive service center, and expect that our customers will enjoy being able to get all of the automotive service needs met at one location. We think that being a one-stop shop for anything from an oil change to transmission repair will be something that the consumer will appreciate and depend on" said Ursery.

Clarksville, TN – The Go Commando Half Marathon & 5k, powered by CDE Lightband, is back for a third year, bringing with it new activities and enhanced features. Runners will take to the streets of Historic Downtown Clarksville Saturday, October 19th, 2013.
But those interested in running are encouraged to register early online at www.gocommandoclarksville.com, as the event is only open to the first 2,000 participants.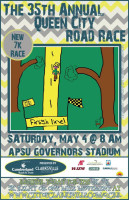 Clarksville, TN – The 35th Annual Queen City Road Race will be Saturday, May 4th. Registration is going on now.
The Queen City Road Race event is a Clarksville tradition promoting fitness and fun for all ages. The 7K and 5K race route takes runners through the streets of Historic Downtown Clarksville, beginning and ending at Austin Peay State University's Governors Stadium, while the One Mile Movement takes you on an exciting tour of a portion of the APSU campus.
For over thirty years, hundreds of Clarksville-Montgomery County and Fort Campbell school students, teachers and family members have participated in this Clarksville tradition.