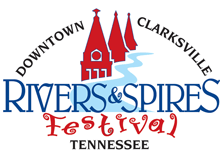 Clarksville, TN – Clarksville's 15th Rivers and Spires Festival began Thursday, April 21st not at a walk or a sprint, but like a race car roaring around the track. The performances on the Public Square Stage were a soulful adrenaline filled ride much like getting on the 50 mph triple looping Mind Bender roller coaster at Six Flags Over Georgia.
The festival start at 5:00pm and the party went on well past 10:00pm. The weather was warm with a slight breeze and best of all, the rain stayed away.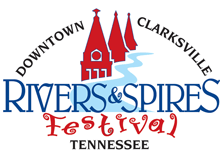 Clarksville, TN – The 15th annual Rivers and Spires Festival kicks off tonight, Thursday, April 20th, in Downtown Clarksville Tennessee from 5:00pm until 10:00pm. Chase & Ovation will headline the Public Square Stage tonight performing the music of Prince.
Rivers and Spires is an event for the whole family featuring children's activities, arts vendors, a car show, military exhibits, shopping and so much more. Those that attend will have five stages of live entertainment with over 100 performers to enjoy during the three day event.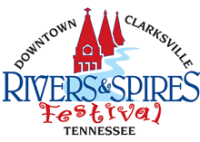 Clarksville, TN – The second day of the 2013 Rivers and Spires festival opened with an unseasonable chill in the air, but that didn't stop the crowds for coming out for the second day of this wonderful three day festival held in Historic Downtown Clarksville Tennessee.
On the first day of the 2013 Rivers and Spires Festival I concentrated mostly on the musical entertainment, today I engaged in one of the most popular activities at the festival, people watching!
Rivers and Spires Festival | Friday April 19th | 5:00pm-10:00pm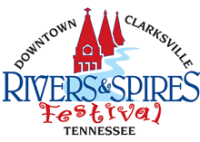 Clarksville, TN – The Rivers and Spires Festival kicked off last night with performances by several outstanding bands that rocked Downtown Clarksville. The Festival continues tonight at 5:00pm with more music and activities for the entire family.
Chris Monhollen a multi-talented musician and award winning vocalist from Clarksville, Tennessee hits the Family Fun Stage at 5:00pm. He has performed in numerous shows and local festivals in the Middle Tennessee area.