Clarksville, TN – Clarksville's Welcome Home Celebration will take place September 18th-22nd, 2019. The event, now in it's fifth year, has added two new exhibits to honor veterans and first responders. The community is invited to participate in dozens of events and activities and show their appreciation.

Clarksville, TN – Visit Clarksville and CDE Lightband presents Mic Check Monday at Downtown Commons this summer. Mic Check Monday is a new free concert series. Concerts will take place each Monday in June and July.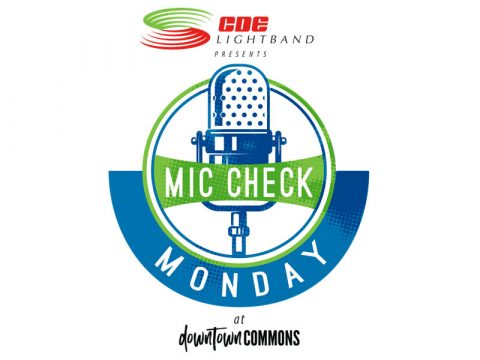 [Read more]

Southside, TN – Historic Collinsville opened its 2019 season last weekend with a series of Easter Egg hunts for kids ages 0 -12.
Located just outside Clarksville, near the community of Southside, Historic Collinsville is a recreated village/living history museum that offers visitors a glimpse into mid 19th century life.
Historic Collinsville

Clarksville, TN – Historic Collinsville opens for the 2019 season on Saturday, April 20th with its annual Spring Homecoming. This year, the pioneer settlement is also hosting an Easter Extravaganza with egg hunts and prizes for ages 1-12.
Visit Clarksville

Clarksville, TN – Visit Clarksville, CDE Lightband and Clarksville Parks and Recreation will host Clarksville's second competitive gaming tournament, F2 Con, Thursday-Saturday, April 18th-20th at the Wilma Rudolph Event Center.
The three-day competition offers tournament play, casual gaming, and fun for all ages with retro gaming, vendors and live streaming. All gaming will take place on CDE Lightband's gigabit internet.
Visit Clarksville

Clarksville, TN – The 2018 Toyota East West All-Star Classic will be held in Clarksville, Tennessee at Austin Peay State University's Fortera Stadium on Friday, December 7th, 2018 for the second year.
The All-Star Classic is organized by the Tennessee Athletic Coaches Association (TACA) and is made up of the state's top 88 senior football players who are selected from more than 400 nominations.
Historic Collinsville

Clarksville, TN – Historic Collinsville celebrates all things Fall with its annual Fall Pilgrimage on Saturday, October 20th, 2018, from 10:00am–4:00pm.
Throughout the day guests will experience spinners, weavers, children's games, hayrides, pumpkins, make-and-take crafts, craft vendors, food and live bluegrass music.
Visit Clarksville

Clarksville, TN – Visit Clarksville says close to 2,200 athletes, coaches, and spectators will visit Clarksville on Saturday, October 6th, 2018 for the Class A and AA Boys and Girls Cross Country Middle School State Championships.
Armed with tents, coolers and plenty of water, family members will cheer runners along the two-mile course beside the Hilldale Baptist Church Family Life Center, 250 Old Farmers Road.
Visit Clarksville

Clarksville, TN – Delegates from around the state will adorn Clarksville for the 2019 Miss Tennessee USA and Miss Tennessee Teen USA Pageants on October 12th-13th, 2018 at the Austin Peay State University Music and Mass Communications Building. Organized and produced by Greenwood Productions, the upcoming pageant marks Clarksville's 20th year to host the event.
The preliminary show will take place on Friday, October 12th, 2018 at 7:00pm.
Visit Clarksville

Clarksville, TN – Clarksville Tennessee is a community that appreciates veterans. The city borders the Fort Campbell Army Post, so appreciating military service is simply the way of life for both residents and businesses.
Beyond the ingrained respect that happens daily, this community publicly shows its support annually–in a big way–with a five-day Welcome Home Veterans Celebration.