Clarksville's First Thursday Art Walk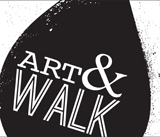 Clarksville, TN – Produced by The Downtown Clarksville Association, Clarksville's First Thursday Art Walk is a free, self-guided tour spanning a 5-block radius that combines visual art, live music, engaging events and more in the heart of Downtown Clarksville.
With 10+ venues, bars and businesses participating each month, the First Thursday Art Walk in Clarksville is the ultimate opportunity to savor and support local creative talent.

Clarksville, TN – The Customs House Museum and Cultural Center is located in historic downtown Clarksville, Tennessee. Come explore an entire city block featuring large gallery spaces filled with fine art, science and history.
Some of the events in July at the Museum are: Fantastical Patterns: Quintin Owens: Memory Structures, International Reflections: The Art of Women Artists Mentors, World in Wood: The Folk Art of Herbert Baggett, Interpreting the Familiar: The Art of Hattie Marshall Duncan, and Randy Rubel to Reveal Log House Mystery.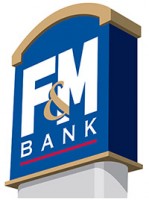 Clarksville, TN – On October 2nd, 2017, the Blood Assurance Blood Mobile and the F&M FunMobile are teaming up for a Blood Drive at F&M Bank's Main Office parking lot located at 50 Franklin Street in Downtown Clarksville. The event will go from 10:00am until 3:00pm.
Blood Assurance will be giving all donors a FREE "One Cool Donor" t-shirt and your choice of "I Bleed" football themed socks! You will also be entered to win a $250.00 gift card to Walmart!
The F&M FunMobile will be on site with FREE hot dogs, popcorn and drinks!!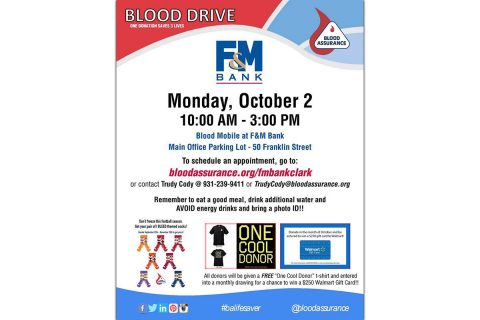 [Read more]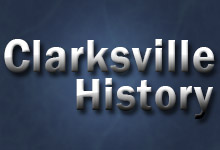 Clarksville, TN – Have you heard the story of the first frontier settlement on the Red River?
Many times the history beneath our feet here in Montgomery County is not in the forefront of our minds. It can be easily forgotten that the many places we live, shop, or work every day contain stories from multiple historical periods of Tennessee. In this case, it is the history of westward expansion and the Indian Wars of the 18th century.
People may wonder why these stories matter. Many of us were at one time young students who felt history class was incredibly boring and even called it our least favorite subject. Yet, in truth, it is those who devote some time to the subject in depth who are a very fortunate group of people. They gain insights and knowledge; they increase their wisdom.

Clarksville, TN – Dr. Tony Morris, Associate Professor of Art History at Austin Peay State University, has been elected to a three-year term on the Southeastern College Art Conference (SECAC) Board of Directors.
Morris earned his Ph.D. in Art History from Case Western Reserve University in 2010. With an interest in the expression of queer masculinities and artwork that challenges conventional social values, his research focuses on gender and queer identity in 20th century American art.

Clarksville, TN – Austin Peay State University Associate Professor of Creative Writing Dr. Amy Wright is preparing for a busy 2016, as the poet, author and teacher will publish four collections of her writing, including her fifth chapbook, "Wherever The Land Is."
A series of nonfiction essays comprised of the author's research into work, loss, Emily Dickinson, and entomophagy, or the human consumption of insects, "Wherever The Land Is" explores a possible answer to humanity's growing need for food sources.

Clarksville, TN – If you live or attend high school in a county outside of Tennessee that is within a 250-mile radius of Austin Peay State University, then you qualify for a discounted tuition rate for both undergraduate and graduate programs at Austin Peay.
High school students who have a 22 ACT (or 1020 SAT) or higher are eligible for an additional Provost Scholarship, bringing tuition rates within a few dollars of the University's in-state rate.
Travel industry organization has saluted region's best events since 1985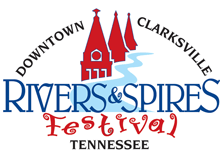 Clarksville, TN – The Southeast Tourism Society has named Clarksville's Rivers & Spires Festival one of the STS Top 20 Event in the Southeast for April 2016.
This year's Rivers and Spires Festival is scheduled for April 14th-16th, 2016. The STS Top 20 Festival and Event Awards have highlighted programs around the Southeast since 1985.

Clarksville, TN – The Aurora Foundation, a national non-profit that helps veterans earn a college education, recently awarded Austin Peay State University with a $5,000 grant to continue its Green Zone Program.
The University's Military Student Center began the Green Zone initiative in July to train APSU faculty and staff on the issues facing veteran and military-affiliated students.

[Read more]
Fast-casual sandwich chain to debut in Clarksville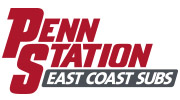 Clarksville, TN – Penn Station East Coast Subs, the fast-casual restaurant known for its fresh grilled, made-to-order sub sandwiches, hand-squeezed lemonade and fresh-cut fries, will open its first location in Clarksville next month at 110 Needmore Road.
Cincinnati-based Penn Station East Coast Subs features grilled sub sandwiches – including the chain's renowned Philadelphia cheesesteak sandwich – and cold deli sandwiches made to order with high-quality ingredients on hearth-baked bread.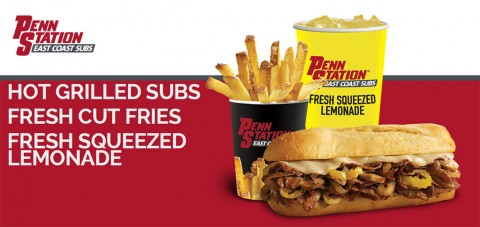 [Read more]