Clarksville, TN – The Clarksville Area Chamber of Commerce honored an outstanding Clarksville-Montgomery County entrepreneur on April 10th with the inaugural GrowCo Excellence In Entrepreneurship Award.
The award is in place to recognize a Chamber member business that has excelled in entrepreneurship.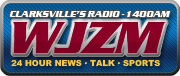 Clarksville, TN – Clarksville's original radio station, WJZM1400am, has transferred ownership. In a joint announcement this week, previous owner, Hank Bonecutter, said he had agreed to sell the corporation to local businessmen David Loos Jr, Greg Walker, and Mike Parchman. The sale became official on Tuesday.
"My wife and I are extremely excited about the sale," said Bonecutter. "We have put a lot of hard work into WJZM, and this opportunity only comes along once in a lifetime to go out on your terms. I have dedicated my broadcasting career to the Clarksville-Fort Campbell community, bringing news, sports and current events to the public as reliable and credible as I can be. I think my legacy will be left on WJZM forever. I'm very excited, and proud of what I've accomplished." [Read more]