Visit Clarksville

Clarksville, TN – The Visit Clarksville board of directors announces that Tom Kane has been named chairman for the 2018-19 year, which began July 1st, 2018.
Kane is president and CEO or Fortera Credit Union, a position he has held for six years. Kane is originally from Wisconsin, but has worked in financial services in numerous locations across the country for 25 years. He also served as chairman of the Aspire Clarksville Foundation in 2016-17.

Clarksville, TN – Tennessee Governor Bill Haslam and Department of Tourist Development Commissioner Kevin Triplett today announced Tennessee tourism's direct domestic and international travel expenditures reached an all-time high of $18.4 billion in 2015, up 3.7 percent over the previous year, as reported by the U.S. Travel Association.
Numbers for Montgomery County increased to $205.1 million, up 1.3% over 2014.
Clarksville, TN – The Clarksville-Montgomery County Convention & Visitors Bureau (CVB) is engaging in an exciting new Group Tour program that enhances local tourism, while at the same time providing amazing entertainment options for local residents right here at home.
A series of group tours lasting for 4 days each are planned for Memorial Day, the 4th of July, and Labor Day; and are billed as "Heroes, Hometowns and Legends." With the final tour this year being a 3 day event planned for the Christmas season billed as "God, Country, Christmas."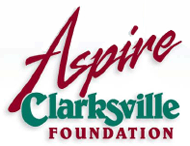 Clarksville, TN – Aspire Clarksville, an economic development foundation to benefit Clarksville-Montgomery County, Tennessee, will officially launch its new campaign at a kickoff breakfast in early February.
The new, five-year, campaign aims to raise nearly $3.8 million for local business development, which is anticipated to bring over 3,500 jobs to the area.
The new effort, "A Focus On The Future," is the fifth campaign since the Aspire initiative was started in 1996. [Read more]