Clarksville, TN – Austin Peay State University, which turned 90 in April, experienced another big year, with new buildings and programs transforming the campus over the last 12 months.
Women's volleyball and men's football electrified the community this fall, and in August, thousands of people cheered as the afternoon sky went dark for nearly two minutes. As this 90th year comes to an end, here are some of the major stories that came out of Austin Peay in 2017.

Clarksville, TN – The Austin Peay State University Board of Trustees convened for its winter meeting on Friday, with board members approving several items that could transform the physical and academic makeup of the University.

Clarksville, TN – Austin Peay State University (APSU), one of the state's leading providers of higher education to military-connected students and their families, has a long history of supporting veterans on campus and within the community.
This month, in recognition of Veterans Day, the University is hosting several events in honor of the men and women who have served this country.

Clarksville, TN – The 2016-2017 academic year turned out to be a historic year for Austin Peay State University.
During that time period, APSU faculty and staff aggressively pursued outside funding to support research, student success initiatives and community outreach programs, resulting in a 76-percent increase in external grants over the previous year.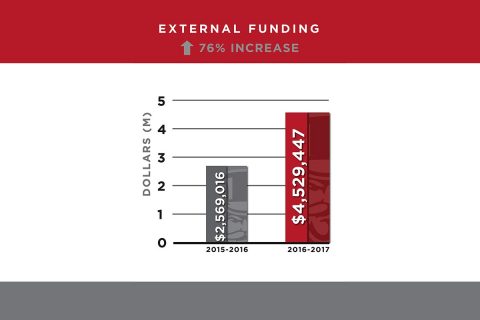 [Read more]

Clarksville, TN – The Tennessee Higher Education Commission (THEC) recently announced that Austin Peay State University will receive $79,954 in additional funding and program support to serve veterans and service members and help them earn post-secondary degrees as a part of Governor Bill Haslam's Drive to 55.
Austin Peay is one of 13 colleges and universities in Tennessee to receive a portion of the $760,781 in total Veteran Reconnect funds to support programs and services for student veterans at campuses across the state.

Clarksville, TN – In the next decade, analysts predict that Amazon, Apple, Google or Tesla will become the world's first trillion-dollar, publicly traded company.
The astounding growth of these companies—Barclays predicts Amazon will triple its revenue by 2027—is leading many to argue that America's economic future has become dependent on STEM (Science, Technology, Engineering and Mathematics) education.

Clarksville, TN – "When will Austin Peay State University offer an engineering degree?"
Since the early 1960s, prospective students and area manufacturers have asked that question, and today (May 11th, 2017), the Tennessee Higher Education Commission (THEC) finally provided them with an answer.

Clarksville, TN – Austin Peay State University convened its inaugural Board of Trustees meeting Thursday, March 30th, completing the transition from the Tennessee Board of Regents (TBR) to its own local governing board.
Austin Peay President Alisa White, joined by Tennessee Governor Bill Haslam and observed by University faculty and staff, as well as media and members of the community, called the 'historic' first meeting to order.

Clarksville, TN – Austin Peay State University's inaugural Board of Trustees will convene for its first meeting at 416 College Street on Thursday, March 30th at 1:30pm. The public is invited to attend this historic event.

Clarksville, TN – This Saturday, November 5th, 2016, the Austin Peay State University athletics department will honor local veterans and military-affiliated individuals with a special Military Appreciation Day during APSU's 4:00pm football game at Fortera Stadium.
All veterans, active-duty personnel and their families will receive free admission to the game with a current military I.D., and several military vehicles will be on display in tailgate alley and inside the stadium.