Clarksville, TN – The survivors were ushered into a large room where they sat in groups, trying to figure out what just happened. One young woman simply cried, unable to control herself.
When family members arrived, the lack of information led to shouting matches, and a group of counseling graduate students, trying to offer help, quickly found themselves overwhelmed.

Clarksville, TN – More than 200 art educators, administrators and artists from across the state visited the Austin Peay State University campus this month to discover new, innovative ways to teach and advocate for the arts in the coming year.
APSU's Center of Excellence for the Creative Arts (CECA) hosted the Tennessee Arts Commission's 2018 Tennessee Arts and Arts Education Conference, which allowed CECA to show off the groundbreaking projects taking place at Austin Peay State University.

Clarksville, TN – At first, it sounds like the set-up to a joke—a voice actor, a Restoration-era drama scholar and a sound engineer walk into a bar (or coffee shop, in this case).
But instead of hijinks, these three Austin Peay State University professors discuss a bold collaborative project to connect students from different disciplines and provide an entertaining resource for the community.

Clarksville, TN – In the late 1940s, shortly after World War II, American comic books took on the daring subject of love. Jack Kirby, co-creator of Captain America, helped popularize these soap opera-like tales with his comic "Young Romance."
The brightly colored covers—which would later inspire Roy Lichtenstein's pop art creations—featured couples embracing or kissing, often with someone crying in the background.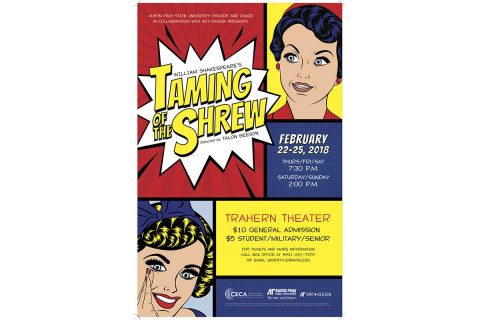 [Read more]

Clarksville, TN – In the immediate wake of a devastating tornado, lives have been lost and homes destroyed, but the damage done to a cherished family business has created more strife for two siblings than high-speed winds could ever hope to cause.
"One of the siblings was focused on being out half a million dollars in damages, while the other one was focused more on the sentimental aspect of having their family business destroyed," Dr. Kim Coggins, Austin Peay State University assistant professor of psychological sciences and counseling, said.
"Buried Child" to be performed by APSU Department of Theatre and Dance

Clarksville, TN – Sam Shepard's Pulitzer Prize winning play, "Buried Child" opens Wednesday, February 8th at Austin Peay State University. In this performance, APSU's Department of Theatre and Dance will explore what it looks like when the American Dream fails.
The curtain rises at 7:30pm for performances on February 8th-11th, with an additional showing February 12th at 2:00pm. All performances take place in the Trahern Theatre, with admission ranging from $10.00 for general public to $5.00 for students, seniors and military.