Clarksville, TN – The Austin Peay State University (APSU) Military Alumni Chapter and the APSU National Alumni Association will host the Military Alumni Chapter Homecoming Dinner at 6:00pm, October 26th, 2018 in the APSU Morgan University Center Ballroom, with a reception at 5:30pm prior to the dinner.
Retired Brigadier General Scott E. Brower, the University's first military adviser in residence, will serve as the keynote speaker.
Clarksville Academy
Clarksville, TN – Clarksville Academy reports that on Wednesday, September 12th, 2018 officials of National Merit Scholarship Corporation (NMSC) announced the names of approximately 16,000 Semifinalists in the 64th annual National Merit Scholarship Program.

Clarksville, TN – Coca-Cola Bottling Works of Tullahoma, Inc. recently pledged $25,000 to the Austin Peay State University Foundation to establish an endowed scholarship program benefiting APSU students.
The agreement was finalized in July 2018. Coca-Cola will present the University with a check for the endowment during the halftime program of the APSU football game at 6:00pm on September 8th at Fortera Stadium.
Fort Campbell High School 2018 Graduation

Clarksville, TN – Fort Campbell High School held its Fifty-Sixth Annual Commencement Exercises Friday at Austin Peay State University's Dunn Center.
The FCHS Class of 2018 graduated a mere 95 students, but their achievements were impressive, as was evidenced by the fact that this class received a collective $7 million in scholarship offers from universities around the country.
The ceremony began with a senior slide show, followed by a student processional to the traditional Pomp and Circumstance.

Clarksville, TN – In 2014, Austin Peay State University established the John W. Moseley Media Room in the Dunn Center, but nearly three years later, a related scholarship honoring the late professor had not been endowed.
"I found out we were short about $500.00," Dr. Mike Gotcher, former chair of the Austin Peay State University Department of Communication, said. "I made a donation, and I contacted Bikers Who Care, who also helped out, and we got it endowed."

Clarksville, TN – Austin Peay State University student Alexis Larkin was recently awarded a national scholarship by the Order of Omega for her leadership, academics and service to the campus and local community.
Larkin is a member of APSU's Order of Omega Chapter.

Clarksville, TN – Forty years before Leonard Hamilton became Florida State University's winningest head basketball coach, he was a young graduate assistant on the coaching staff at Austin Peay State University.
Prior to his arrival, he'd been initiated into the Kappa Alpha Psi fraternity, and while on campus, Hamilton encouraged a group of motivated young men to establish a chapter at Austin Peay.

Clarksville, TN – A recent gift from Bobby and Betty Mills to Austin Peay State University will ensure that the memory of their late son will endure and support future Montgomery County-area students as they work toward their educational goals.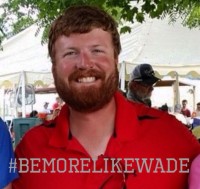 Cunningham, TN – The 3rd annual Be More Like Wade Scholarship 5K Run/Walk/Crawl, in honor of Wade Morgan, was held Saturday, July 29th, 2017 at the Montgomery Central High School. Registration began at 8:00am and the race started at 8:30am.
It was just perfect weather for the event. Partly sunny with a slight breeze that kept everyone cool.
"Compared to the weather we have had just over the last couple of days, this weather is exactly what we prayed for," stated Jessica Morgan, sister-in-law of Wade Morgan.

Clarksville, TN – At the weekly meeting of the Kiwanis Club of Clarksville on Tuesday, June 20th, 2017. two check presentations were held.
Congratulations to Ashley Montgomery, Rossview High School student, for being awarded the 2017 Kiwanis Club of Clarksville Scholarship.