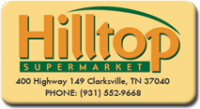 Clarksville, TN – Hilltop Super Market held their 22nd annual Easter Egg Hunt on Saturday, April 15th, 2017. The weather was nice and warm with a cool breeze that kept it from being hot. The event kicked off at 11:00am and the Easter Egg hunt began at 2:00pm.
There were several different activities for everyone to enjoy. There were inflatable bounce houses provided by U Jumpin' Foulks, face painting done by Montgomery Central High School Cheerleaders, cupcake decorating, a duck pond, and other games.

Clarksville, TN – With the abundance of holiday happenings around town this time of year, making a day of it has never been easier. By the same token, however, sometimes you just need a break from all of the hustle and bustle.
Red River Breeze invites you to pause for an afternoon to enjoy classic holiday tunes with a Celtic flair and celebrate the release of their Christmas album, The Babe of Bethlehem, at the Roxy Regional Theatre on Saturday, December 5th, at 1:00pm.

Clarksville, TN – If you are tired of the snow and the cold, come join us Sunday for some Celtic music, sure to warm your soul. Red River Breeze plays a mixture of traditional folk music, primarily Celtic, Renaissance and Old-Time American. The music is all instrumental and is usually played acoustically (no amplification) which allows the group's sound to be pleasant to listen to and very melodic. [Read more]